| id | Titre | Date | Catégorie | Téléchargements | Vus |
| --- | --- | --- | --- | --- | --- |
| 589 | Point and No click v0.41 | 16/09/13 à 02:35:23 | Jeux | 35 | 3882 |
Fichier
: Point_and_No_click-(v0.41-Final).zip
Taille
: 0.815Mo
Description :

Lucas HUMBERT
(BeReDeZeBe) propose un petit jeu homebrew :
Point and No click
.
Voici le pitch tel que décrit par l'auteur :
Quote :
"Un petit carré rouge voulais rentrer chez lui,dans un tout petit carré orange.Mais il ne savais pas où il était,alors il eut l'idée la plus simple:suivre un petit carré vert et espérer qu'il se dirige vers le tout petit carré orange…Mais attention!Le petit carré rouge a peur des murs:il insiste pour recommencer du début chaque fois qu'il en touche un!Heureusement,la sorte de souris d'ordinateur est là de temps en temps pour les aider(et démolir les murs…)!"
Le principe du jeu est donc d'amener le carré rouge au carré orange sans toucher les murs.
Version 0.41 (finale)
New HBC icon
Different meta.xml
Optimizations
Final version
Version 0.4
-Graphismes en relief ;
-Nouvelle interface ;
-Nouvelle musique d'accueil (l'ancienne était pas terrible

)
Version 0.3
-Trois nouveaux niveaux… DOUTES…
Version 0.2
-Ajout de quatre niveaux;
-Une nouvelle interface (un peu plus classe,tout de même);
-De la musique!
-Ajout d'un nouvel objet:le téléporteur!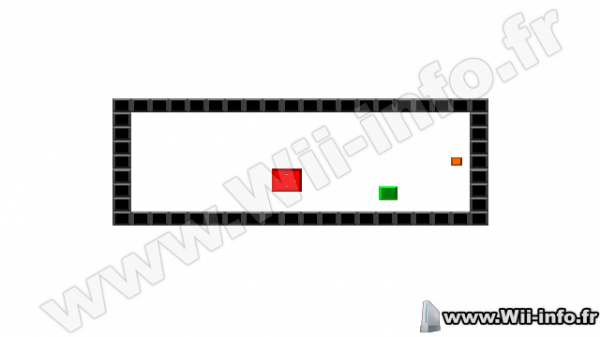 Site officiel :
http://wiibrew.org/wiki/Point_and_No_click

Télécharger Point and No click v0.41
Les fichiers avec l'extension 7z se décompressent avec winrar ou 7zip.