| id | Titre | Date | Catégorie | Téléchargements | Vus |
| --- | --- | --- | --- | --- | --- |
| 634 | UFO Racer v3.5 : Course d'OVNI | 03/11/12 à 13:33:49 | Jeux | 125 | 8010 |
Fichier
: UFORacer_v3.5.7z
Taille
: 0.52Mo
Description :

UFO Racer
par
ThatOtherPerson
, est comme son nom l'indique, un jeu de course d'ovni qui est maintenant en 3D comme sa
version PS3
.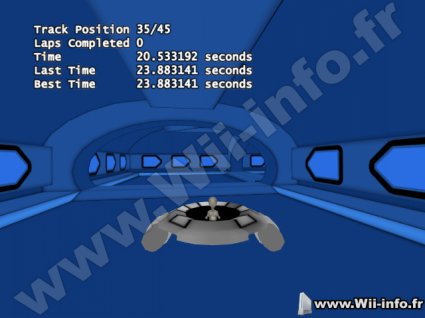 Version 3.5
A new home menu. I rewrote a lot of it and added and changed a lot in the process.

The network browser thing has a built in on screen keyboard (just like the one in Wii Chatter). So now you can use it to post things on people's user pages and in the future you will be able to send private messages and even register an account without needing to actually visit the site.

There is also a little news window next to the main home menu. So you will be able to find out if you are using an outdated version or if something cool has happened without needing to go to the network section of the home menu.

The new sprite sheet / texture it uses is half the size it was previously (which was already smaller than it was not too long ago) so that's good for technical reasons. The buttons and things are designed in a way that allows me to put them closer together and thus fit more on screen. I've even got it setup so I can use different colors of text. I'm not crazy about the way it all actually looks though. I'll probably change the color pallet later and maybe make it customizable.

Version 3.4
- Fixed a problem with track saving
- Replaced the PS3 analog stick controls with Sixaxis motion controls
- The Wii version of course now features the most recent home dashboard menu.

Version 3.3
This update adds a track editor, a title/menu screen, accurate collision detection with the environment and the option to reset the best time (since you may be racing on custom tracks that are longer than the one you set the record with).

In the editor you use the directional pad to move around and press the 1 and 2 buttons (on Wii) or X and O buttons (on PS3) to change the type and rotation of the selected tile. Pressing Plus or Minus (on Wii) or Start (on PS3) will save the track and return you to the main menu.

When I get the time I'll be fixing up the UI and probably editing the track tile meshes so that you don't get completely stopped when you drive into their ridges. I'm also planning to add online scoreboards and track sharing to the Wii version.

Version 3.1
The completely remade 3D edition of UFO Racer is finally on Wii! The Wii port even features motion controls like it did in the 2D version that preceded this.

Along with porting it I've made a few improvements. The high score is saved every time you finish a lap, there is now on screen text telling you what your time was from the previous lap, there have been slight changes to the track geometry and texture, the track is now loaded from an external file (it was previously hard coded into the game) and the font used for on screen text has also changed.

It's a minor update for PS3 but there will be more to come in the future. I'm planning to add a level editor.

Version 0.3
- Vous pouvez désormais choisir la piste
- Une barre de progression montre l'avancée du joueur sur la piste
- Après avoir complété trois tours vous êtes renvoyé à l'écran de sélection de la piste.
Version 0.2
Divers changements

Site officiel :
http://thatotherdev.wordpress.com/2010/06/10/ufo-racer-wii/

Télécharger UFO Racer v3.5 : Course d'OVNI
Les fichiers avec l'extension 7z se décompressent avec winrar ou 7zip.