| id | Titre | Date | Catégorie | Téléchargements | Vus |
| --- | --- | --- | --- | --- | --- |
| 748 | Tick Tock Tank Fight v1.0 | 28/02/11 à 20:02:17 | Jeux | 15 | 4515 |
Fichier
: TickTockTankFight v1.0 for Wii.7z
Taille
: 3.234Mo
Description :

Tick Tock Tank Fight
par
ThatOtherPerson
peut être considéré comme la suite logique de
Tick Tock Car Race
. En effet, l'environnement reste similaire, et est donc pratiquement entièrement destructible. De la même façon d'un jeu de course automobile, où vous devez passer de checkpoint en checkpoint, vous devez ici détruire 5 tanks le plus rapidement possible.
Quote :
Its not quite a sequel but I suppose it is in a way a successor to
Tick Tock Car Race
. It certainly borrows a lot from it.
rather than racing from checkpoint to checkpoint you are instead tasked with destroying five tanks as quickly as possible.
Use the nunchuck analog stick to move and the wiimote point and B button to aim and shoot.
To be honest I'm not particularly happy with it. There where a lot of things wrong with Tick Tock Car race but most of it was behind the scenes and at the least I thought the gameplay was fun. But I'm not sure that I can say the same about Tank Fight…
The music used in the game is
Biosphere by Joshua Arámbula
.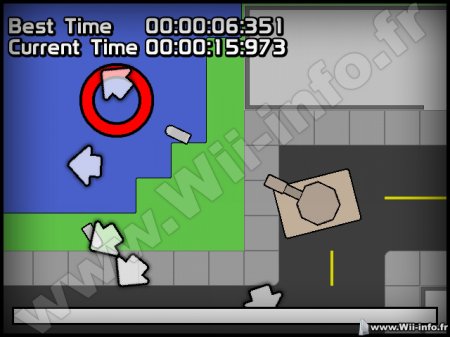 Site officiel :
http://thatotherdev.wordpress.com/2011/02/27/tick-tock-tank-fight-v1-0-%E2%80%93-wii-windows/

Télécharger Tick Tock Tank Fight v1.0
Les fichiers avec l'extension 7z se décompressent avec winrar ou 7zip.