| id | Titre | Date | Catégorie | Téléchargements | Vus |
| --- | --- | --- | --- | --- | --- |
| 899 | Newo Asteroids v2.98: Shoot spatial | 04/06/18 à 11:51:19 | Jeux | 338 | 16786 |
Fichier
: NewoAsteroids.zip
Taille
: 6.087Mo
Description :

Owen nous livre
Newo Asteroids
, un jeu du style "Asteroids". Vous devez détruire des astéroides du système solaire pour ramener la paix dans la galaxie.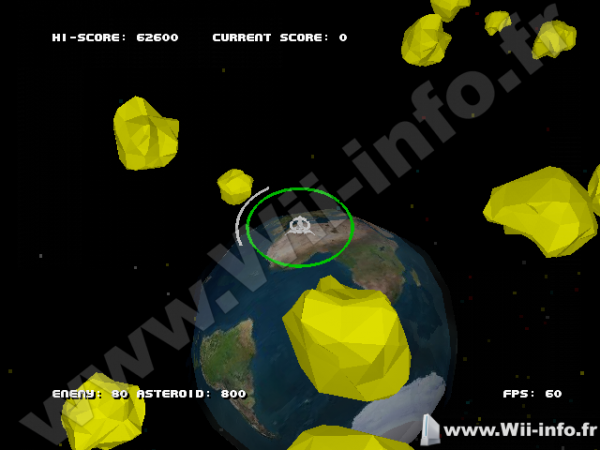 Version 2.98 - May 2018
Random colours by default
Fixed leaderboard
Added debug menu
Down sampled all the sound effects
graphics updates, bug fixes, stability

Version 2.97 - Nov 2015
bug fixes, stability

Version 2.95 - Sept 27, 2015
Fixed Enemy A.I. and movement
Added New Difficulty: Dogfight
Added 5 new achievements
Minor Bug fixes and optimizations

Version 2.9 - April 16, 2014
Adjustments for widescreen tvs
Bug fixes and optimizations

Version 2.8 - February 24, 2014
Added loading screen
Added Auto Update
Fixed Http bug which caused leaderboard to load slowly
Leaderboard statistics now has its own website
Updated engine libraries, fixed animation bugs, updated menus

Version 2.6 - October 10, 2013
- Ajout de physique spatiale.
- Ajout de mode de jeu classique (maximum de physique d'espace et moins d'ennemis).
- Correction des contrôles au pavé directionnel. Vous pouvez l'utiliser sur une wiimote p1 de côté, une manette gamecube ou classique.
Leaderboard now shows scores based on difficulty selected.
Leaderboard now reloads every time you change the difficulty.
Fixed rendering issues with disappearing objects.
Near field radar lines now show asteroids that are close to the ship in order to help find asteroids when there are few.
Fixed Leaderboard Bugs
improved graphics

Version 2.4
fixed bug with leaderboard not submitting scores correctly
added "speedrun" option for timed speedruns ( 3, 5 and 10 minutes )
added animated menus
minor bug fixes

Version 2.2
Leaderboard bugfix for 2.2, old version check, auto-disables after 10 failed attempts.

Version 2.0
Added Online Leaderboards screen for highscores. Daily, Monthly, Speedruns
Updated Achievements Interface
Fixed Death Animation
Online leaderboards uses wii nickname as playername
Added Language menu, Online Data option.
Makes use of http-parser

Version 1.5
I fixed some bugs.

I fixed the graphics, added achievements/challenges and translations.

* The target cursor was off center whenever it was at 45 degree angle because it was stuck to the 2d screen. I put it in the 3d world now which makes it a little awkward but it should still work as long as you don't point to the very edge of the tv. The target cursor also shows the amount of "energy rings" you have collected and turns red if you are currently over heated and cooling down. The target cursor no longer uses cursor.png because it loses its transparency if I stretch
it in the 3d world.

* Added Hard mode which doubles the enemies to 300 and reduces the
asteroids to 500 making the game more of a resource grab and bullet hell than before. I clear out the area around the player when you start in Hard or Easy because it was getting difficult to escape the fire just as you start playing. Easy mode has more asteroids, less enemies and no over heating. Normal is normal.

* Added a new achievement called "50k wildfire" for shooting 50,000 bullets. It accumulates across game so it should be easy to complete. Now I have a total of 21 achievements.

* Music should loop correctly now.

* I doubled the distance that the "Journey" achievement takes to complete. Its now 10,000 pixels.

* Also note that I really cannot test the game in dolphin or Homebrew filter so if you are having framerate issues then you are out of luck.

* You score on on screen by default now.

Site officiel :
http://wiibrew.org/wiki/Newo_Asteroids

Télécharger Newo Asteroids v2.98: Shoot spatial
Les fichiers avec l'extension 7z se décompressent avec winrar ou 7zip.