| id | Titre | Date | Catégorie | Téléchargements | Vus |
| --- | --- | --- | --- | --- | --- |
| 906 | Metal Blob Solid v0.1 | 20/11/12 à 20:41:49 | Jeux | 34 | 3696 |
Fichier
: MetalBlobSolid_alpha.zip
Taille
: 70.093Mo
Description :

Wiimpathy
nous propose
Metal Blob Solid
qui est un jeu de plates-formes, selon lui les temps de chargement sont un peu longs mais cet inconvénient est compensé par une durée des niveaux dépassant la dizaine de minutes.
Vous incarnez un agent Blob, le but est d'infiltrer les lignes ennemies et de libérer les plus possible de MIAs tout en prenant garde aux aliens et aux Blobs qui sont devenus des agents doubles.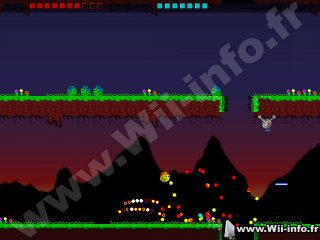 Quote Wiimpathy:
The loading times will remind you of Atari st or Amstrad era! I'm not sure I can improve this. Fortunately, the levels are quite fun and take about +10 minutes to finish, so...

Source :
http://www.wii-addict.fr/forum/Portage-de-4-homebrews-par-Wiimpath-t27740.html

Source :
http://www.nintendomax.com/portal.php

Site officiel :
http://gbatemp.net/threads/some-homebrews-biniax-maryo-chronicles-etc.337187/

Télécharger Metal Blob Solid v0.1
Les fichiers avec l'extension 7z se décompressent avec winrar ou 7zip.