| id | Titre | Date | Catégorie | Téléchargements | Vus |
| --- | --- | --- | --- | --- | --- |
| 911 | Toddtris v1.2 | 04/12/12 à 16:36:19 | Jeux | 35 | 2588 |
Fichier
: toddtris_1.2.zip
Taille
: 2.483Mo
Description :

Toddy
nous propose un second
Tétris
like. Tout comme
Texttrix
un mode 2 joueurs est présent. Le petit plus du jeu est qu'il est customisable. Les fonds d'écran seront en JPEG, les blocks seront en PNG (requis pour GGRLib), tous les fichiers doivent être placés par remplacement dans chaque directoire respectif.
Périphériques: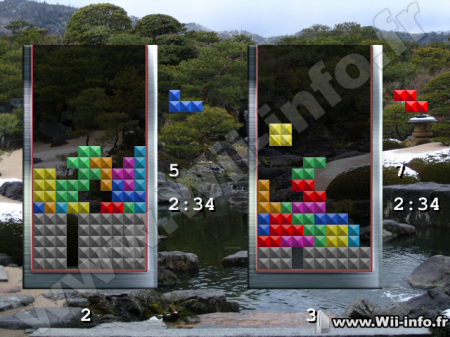 A UML model is available at http://www.themightystags.com/toddtris_wii/toddtris_uml_1.2.pdf for anyone interested in updating the code.
v1.2
- Added wall kicks - see
http://harddrop.com/wiki/Wall_kick
- Updated to grrlib 4.3.2
- Minor cosmetic tweaks
- Added 'drop' function
- Increased well height
- Updated to build with Devkit
v1.1
- Added 'ghost' option to see where pieces will land - see
http://harddrop.com/wiki/Ghost_piece
- Changed Randomizer to use TGM1 algorithm - see
http://harddrop.com/wiki/TGM_randomizer
- Classic controller support
- Changed formula for speed of falling blocks
v1.0
- Initial version

Site officiel :
http://wiibrew.org/wiki/Toddtris

Télécharger Toddtris v1.2
Les fichiers avec l'extension 7z se décompressent avec winrar ou 7zip.