| id | Titre | Date | Catégorie | Téléchargements | Vus |
| --- | --- | --- | --- | --- | --- |
| 914 | Cubicle Shooter City v0.1 | 17/12/12 à 17:04:41 | Jeux | 16 | 3761 |
Fichier
: CubicleShooterCity v0.1.zip
Taille
: 0.802Mo
Description :

Cubicle Shooter City par Thatotherdev est un portage de sa
version sortie sur PS3
.
Cet homebrew reprend l'environnement de
Hero City
et les modèles de personnages de
Cubicle Shooter
.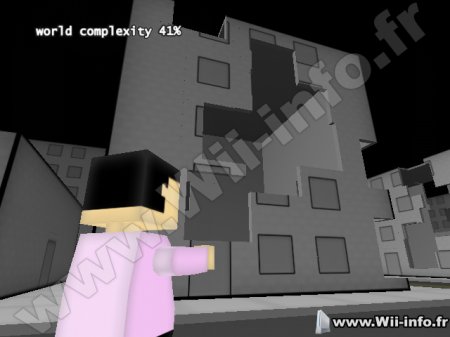 Quote :
This Wii port also features a new destruction mode that brings the camera down behind the player and lets you shoot square shaped holes into the walls of buildings. It's more of a tech demo then a game mode but I'm still very proud of this part. It's all procedural. The city's geometry becomes more complex as you shoot it up and once it reaches a certain point it resets and sends you back to the main menu.

Site officiel :
http://thatotherdev.com/2012/12/07/cubicleshootercity-v0-1-wii/

Télécharger Cubicle Shooter City v0.1
Les fichiers avec l'extension 7z se décompressent avec winrar ou 7zip.