| id | Titre | Date | Catégorie | Téléchargements | Vus |
| --- | --- | --- | --- | --- | --- |
| 946 | Sqrzx 2 v1.10 | 05/02/16 à 13:03:45 | Jeux | 31 | 9394 |
Fichier
: sqrxz2-v.latest-wii.zip
Taille
: 0.758Mo
Description :

Oibaf
nous propose le portage du second volet de la quadrilogie SQRZX qui sont des jeux multi plates-formes.
Quote :
Another day another journey... As living on planet earth and its surrounding solar system seemed boring Sqrxz decided to check out another location in the universe. Just in case and to be extra careful he took a pocketful of emeralds with him to keep him in ready cash, but after starting his exciting journey he realised all his emeralds are suddenly missing! Retracing his steps Sqrxz notices mysterious creatures popping up all over the place to hinder him in his search... Oh what troublesome days... Help poor Sqrxz get back all his emeralds!

Features :
Tough challenging gameplay - Extremely difficult; not for weaklings!
Retro graphics!
Hidden passages to discover!
10 tricky n' hard levels!
11 marvellous chiptunes!
Top 10 highscore!
Infinite continue mode, which you will need badly in order to practise! :)

Version 1.10
improved file system (old .zda files in /data can be deleted!)
added soundcheck option
added ability to change screen effects on the fly
Version 1.0
- Initial release
- Shown at "6. Retro-Börse in Wien"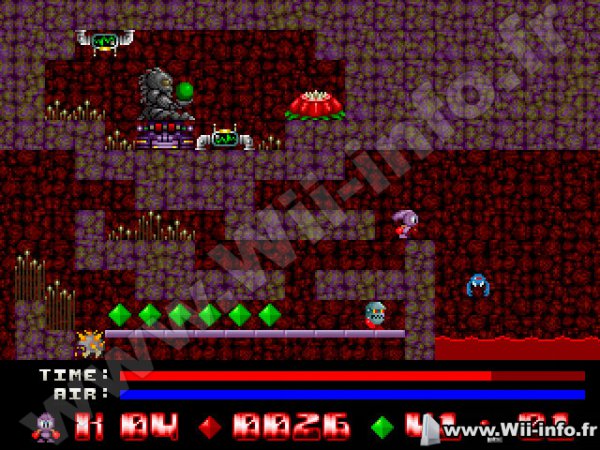 Site officiel :
http://wiibrew.org/wiki/Sqrxz2

Site officiel :
http://www.sqrxz.de/

Télécharger Sqrzx 2 v1.10
Les fichiers avec l'extension 7z se décompressent avec winrar ou 7zip.