Posté par abdel69jutsu le 07/03/11 à 01:56:32
2058 affichages, 0 commentaire


MPlayer CE est une modification du MPlayer par la team Twiizer de scip.it, rodries.
Cette version supporte la lecture de media sur DVD gravés, carte SD/SD, USB, SMB, DVD Video, lecture de radios.
Les petits plus sont la correction de cache DVD, correction de l'USB, chainage automatique (lecture des fichiers du dossier lors de la sélection d'un fichier) et correction de l'aspect radio.
Pour lire l'USB 2.0 et les DVD, vous devez installer le cIOS Hermes en mode 202 à partir de l'IOS60. DVDx n'est plus nécessaire.

Tutoriel pour utiliser MPlayer : http://www.wii-info.fr/article-62-lire-des-films-musiques-sur-wii-avec-mplayer.htm

Version 0.80 (r658)
- Upstream sync. [MPlayer r33021 / FFmpeg 8cf9a09]
- Selectable YUV to RGB conversion standard for -vo gx.
- Fixed libavformat TCP sockets, new protocols available.
- Removed persistent screen adjustments.
- Many other fixes and changes.

Voici un tutoriel pour utiliser MPlayer ici

Pour l'utilisation de SMB (lecture de fichiers provenant de dossiers partagés), partagez votre dossier sur votre ordinateur en faisant clique droit, partage puis partager ce dossier. Puis editez le fichier

smb.confg

:
Code :


#Samba share1 (smb1:/)
ip1=192.168.0.1
share1=films
user1=
pass1=


ip1: l'adresse ip de votre ordinateur
share1: le nom du dossier partagé
user1: l'utilisateur de l'ordinateur
pass1: le password de l'utilisateur (laissez vide s'il n'y a pas de mot de passe).

Remplacez 1 par 2, 3, 4, 5 pour changer les 5 partages SMB.

Pour éditer les radios, ajoutez les urls des radios au format pls dans le fichier menu.conf.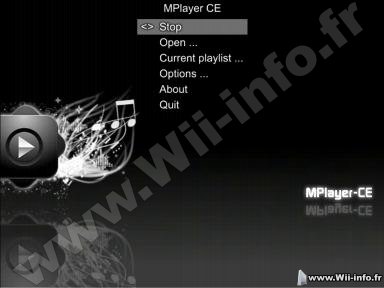 Site officiel : http://code.google.com/p/mplayer-ce/


Télécharger MPlayer CE v0.80 (r658)