Posté par abdel69jutsu le 21/12/11 à 13:55:22
1683 affichages, 0 commentaire


Voici un nouvel outil made by JoostinOnline et stfour. Settings Editor permet de modifier divers options du système de la console.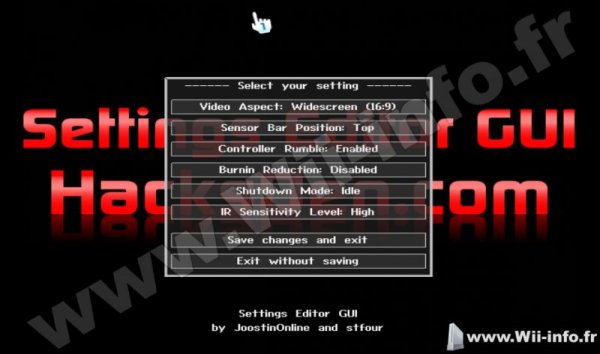 Version 1.2
- Wii remote powers down after 1.5 minutes of inactivity.
- If in an emunand, you can now choose how to exit.
- Before you load the Internet Settings, you are prompted if you want to save changes.
- Exits a bit faster.



Source : http://gbatemp.net/topic/310091-settings-editor-gui/


Site officiel : http://www.hacksden.com/showthread.php/3142-Settings-Editor-GUI


Télécharger Settings Editor GUI 1.2
Pages: 1
Messages:
Pages: 1
Ajouter commentaire:
Créez un compte
ou identifiez vous pour poster un commentaire.