Posté par Attila le 02/02/12 à 11:04:53
1375 affichages, 0 commentaire


postLoader, par stfour, est un utilitaire vous permettant de lancer des homebrews ou des forwarders, en autoboot ou manuellement, directement après le priiloader. Vous pouvez l'installer en autorun après le priilader en utilisant l'option "Load/Install File" de ce dernier.

postLoader 3.59.2
* nandbooter mooved again a little upper as apploader mode was broken
* nandemu scanner now skip hbc and postloader channel (POST)
* priibootergui is now in the apps folder with it's xml-<no_ios_reload/>. This is need by priiloader > 0.8 to enable AHPBROT. Once installed it can be deleted
* <no_ios_reload/> added to postloader's xml
* some minor changes
* readmii.txt updated to v.1.6

postLoader 3.59.1
* Fixed a bug that was preventing postloader to browse real nand if ios249 is used (this heppens it AHPBROT flag is not available)
* added to xml file <no_ios_reload/>, it is required if executed from HBC

Version 3.57.5
- Correction d'un bug dans les messages de debug pouvant mener à un dump corrompu si l'enregistrement était autorisé.

Version 3.57.4
- Ajout de la possibilité de changer le Loader par défaut. [home]->game options->set default loader. (Peut toutefois être très lent)
- Certains menus ont été corrigés.Corrected some menu options.
- Correction en ce qui concerne le titre en haut du navigateur de jeux (gamebrowser).
- Code mis à jour.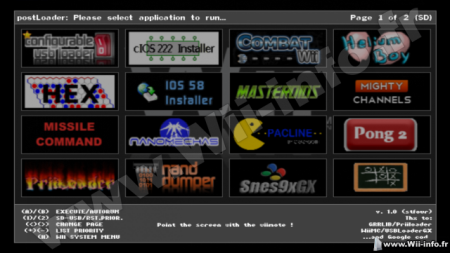 Site officiel : http://code.google.com/p/postloader/


Site officiel : http://gbatemp.net/t299384-postloader2?&st=0


Télécharger postLoader 3.59.2
Pages: 1
Messages:
Pages: 1
Ajouter commentaire:
Créez un compte
ou identifiez vous pour poster un commentaire.