Posté par abdel69jutsu le 23/04/12 à 20:16:53
2306 affichages, 0 commentaire


Wiimms ISO Tools et Wiimms WBFS Tool est un ensemble d'utilitaires réalisé par Wiimm. Ils vous permet de manipuler les Images ISO de jeu Wii et les containers WBFS. Les deux utilitaires principaux sont nommés wit (Wiimms ISO Tool) et wwt (Wiimms WBFS Tool, le WBFS manager). Il s'agit de la solution la plus complète à l'heure actuelle en terme de manipulation d'ISO. Tous les formats sont supporté (de fichier comme de format de partition), il est possible de faire des transferts par lot, de réparer des partitions ou des fichiers WBFS, etc, etc...

Attention, ces utilitaires sont à utiliser en ligne de commande uniquement !! Des versions sont disponible pour Windows, Linux (x86 et x64) et Mac OS.

wit v2.05b r3611
Bug fix for assertion failure in "wwt RECOVER".

wit v2.05a r3591
"wit VERIFY" will now ignore extracted file systems.
wit --id=.....X: ID change failed if only the sixt character was modified.
All ID patching options (--id, --disc-id, ...) accept now a plus sign '+' as wildcard for multiple '.' to fill the complete entered ID to 4/6 characters.
The listing command "wit ID6" accepts now all ID patching options to test the effect of them.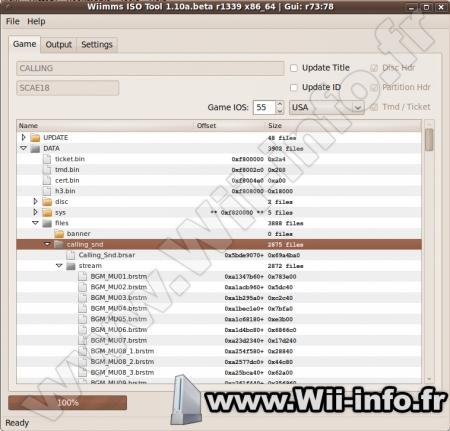 (Image de qtwitgui)

Site officiel : http://wit.wiimm.de/


Site officiel : http://gbatemp.net/t182236-wwt-wit-wiimms-wbfs-iso-tools


Télécharger WIT: Wiimms ISO & WBFS Tools v2.05b r3611
Pages: 1
Messages:
Pages: 1
Ajouter commentaire:
Créez un compte
ou identifiez vous pour poster un commentaire.