Posté par richardjouir le 10/10/12 à 14:44:30
1341 affichages, 0 commentaire


Wiimms ISO Tools et Wiimms WBFS Tool est un ensemble d'utilitaires réalisé par Wiimm. Ils vous permet de manipuler les Images ISO de jeu Wii et les containers WBFS. Les deux utilitaires principaux sont nommés wit (Wiimms ISO Tool) et wwt (Wiimms WBFS Tool, le WBFS manager). Il s'agit de la solution la plus complète à l'heure actuelle en terme de manipulation d'ISO. Tous les formats sont supporté (de fichier comme de format de partition), il est possible de faire des transferts par lot, de réparer des partitions ou des fichiers WBFS, etc, etc...

Attention, ces utilitaires sont à utiliser en ligne de commande uniquement !! Des versions sont disponible pour Windows, Linux (x86 et x64) et Mac OS.

Cet utilitaire est en fait à la base de nombreux dérivés graphiques. En particulier, vous pouvez trouver ces utilitaires :
- WiiJManager
- Wii Backup Fusion
- qtwitgui

wit v2.10a r4118
- Write privileges are not longer needed, if a WBFS file or partiton is only read.
- New command: wit ANAID (ANAlyze ID): Analyze the entered IDs and print one line for each ID with 3 columns: HEX_ID, ASCII_ID, Game title.
- Little (compatible) changes for WDF v1.
- New command: wit FRAGMENTS: Print the image fragments and, if possible, their filesystem mapping. Add option --brief (-b) to print only a summary with the fragment counts. Add option --long (-l) to print additonally alignment infos.
*NOTE: Filesystem mapping is only supported on real linux systems (yet),but neither for Mac nor for Cygwin.
- The image builder search now the file 'exclude.fst' to exclude files from the composing.
See http://wit.wiimm.de/info/composing.html#part for details.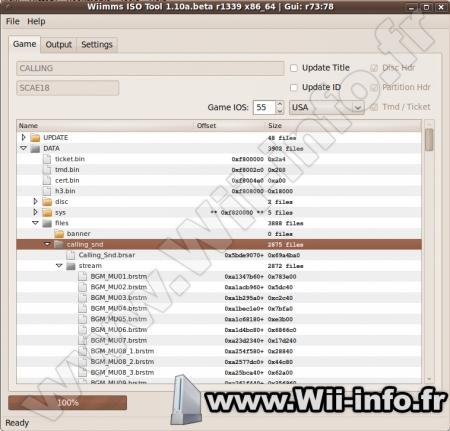 (Image de qtwitgui)

Site officiel : http://wit.wiimm.de/


Site officiel : http://gbatemp.net/t182236-wwt-wit-wiimms-wbfs-iso-tools


Télécharger WIT: Wiimms ISO & WBFS Tools v2.10a r4118
Pages: 1
Messages:
Pages: 1
Ajouter commentaire:
Créez un compte
ou identifiez vous pour poster un commentaire.