Posté par richardjouir le 20/11/12 à 17:45:43
1451 affichages, 0 commentaire



TailTale est un jeu de type puzzle porté par Rikku2000. Les lignes de blocs arrivent du bas, il suffit de rassembler au moins 4 blocs de la même couleur verticalement ou horizontalement pour les faire disparaître.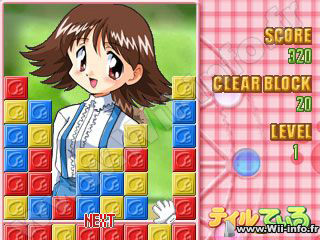 Version 1.3
Edit the Makefile fixed a bug for CAANOO, Edit the Input code and add to any Device Lefthand Support, fixed small bugs in Game.

Pour le portage sur d'autres systèmes, suivez ce

lien




Site officiel : http://u-ac.net/tailtale/index.php?id=0


Site officiel : http://wiibrew.org/wiki/TailTale


Télécharger TailTale v1.3
Pages: 1
Messages:
Pages: 1
Ajouter commentaire:
Créez un compte
ou identifiez vous pour poster un commentaire.