Posté par Itachijiraya le 18/02/13 à 22:42:46
1720 affichages, 0 commentaire
WiiCoverDownloader par Actar est une application Windows qui permet de télécharger les covers (jaquettes) de vos jeux Wii et GameCube il placera ces dernières directement là où il faut pour (dans) votre/vos loader.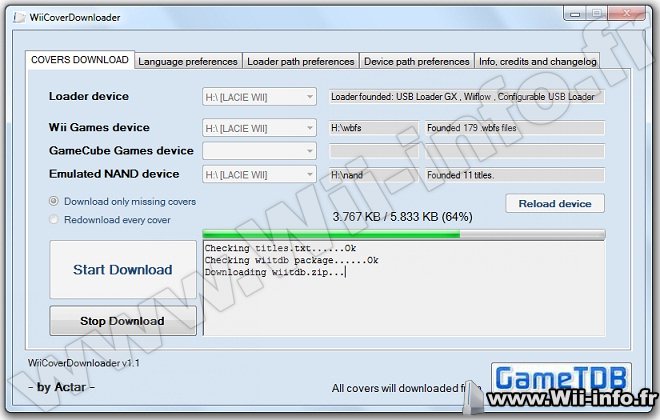 Nécessaire :

PC with .NET 2.0 installed
Your devices with games and loader connected to your PC

Utilisation :

Start the program
Select the device where there are the Loader (are supported USB Loader GX, WiiFlow and Configurable USB Loader).
The application automatically check which Loader are present in the selected device
Now select the device where are stored your games.
Then start the Download and wait. :lol:
The application will download the images and then put in the correct folder for each Loader detected.

Customization

If you want to change the language, go to "Language preferences" and change it.
In case you have already modified/customized paths for covers in Loader settings, change them also in this appilication: "Loader Path

Preferences".
You can see the used paths for games (Wii games, Gamecube and Emulated Nand) in the "Device Path Preferences". If necessary change them

according to your needs.



Source : http://gbatemp.net/threads/pc-apps-wiicoverdownloader.342140/


Site officiel : http://code.google.com/p/wii-cover-downloader/


Télécharger WiiCoverDownloader V1.3
Pages: 1
Messages:
Pages: 1
Ajouter commentaire:
Créez un compte
ou identifiez vous pour poster un commentaire.