Posté par Attila le 21/05/13 à 11:36:29
2626 affichages, 0 commentaire


Wiimms ISO Tools et Wiimms WBFS Tool est un ensemble d'utilitaires réalisé par Wiimm. Ils vous permet de manipuler les Images ISO de jeu Wii et les containers WBFS. Les deux utilitaires principaux sont nommés wit (Wiimms ISO Tool) et wwt (Wiimms WBFS Tool, le WBFS manager). Il s'agit de la solution la plus complète à l'heure actuelle en terme de manipulation d'ISO. Tous les formats sont supporté (de fichier comme de format de partition), il est possible de faire des transferts par lot, de réparer des partitions ou des fichiers WBFS, etc, etc...



wit v2.20a r4399
- After 4 years development this version should be the last release of the
WIT-Tools until further notice; with exception of bug fix releases. I will
discontinue adding new features. That's the reason for the little version
jump to v2.20a.

- New command: "wwt NEW" is a short cut for "wwt ADD --update --newer".

- Cygwin (Windows) DDLs updated.

- Title data base updated.

wit v2.13a r4298
- New docu file: INSTALL.txt

- Mac+Linux+Unix: Script 'install.sh' will call itself with 'sudo' if not
started by user 'root'. Read INSTALL.txt for details.

- Windows: Cygwin updated.

- Bug fix: If writing an image failed ('disc full' for example), the tools
didn't aborted and, if option --remove was set, deleted the source image.
This bug arrived with the implementation of preallocation, because of a
lost error status.

wit v2.12a r4272
- Bug fix: "wit EDIT" failed on WBFS files since v2.10a (Write privileges
not longer needed for WBFS files).

- New command: wwt SCRUB: Scrubs an image and free unused WBFS blocks. It can
be combined with --psel= to clear unwanted image partitions. This command
may help to repair wrong WBFS block maps.

- New wfuse option: --allow-other (-O): This option is a short cut for
'-o allow_other'. It enables re-exporting of the mounted file system for
example by a samba server.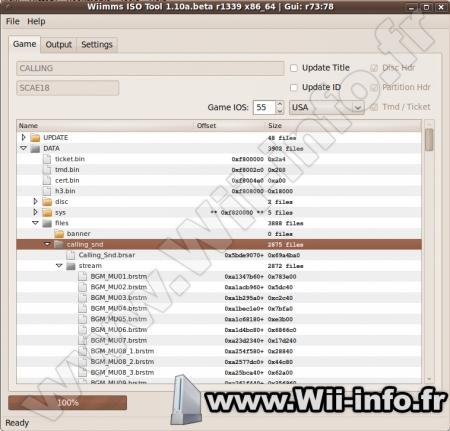 (Image de qtwitgui)

Site officiel : http://wit.wiimm.de/


Site officiel : http://gbatemp.net/t182236-wwt-wit-wiimms-wbfs-iso-tools


Télécharger WIT: Wiimms ISO & WBFS Tools v2.20a