Posté par richardjouir le 22/06/13 à 14:23:02
2434 affichages, 0 commentaire


Wiimms ISO Tools et Wiimms WBFS Tool est un ensemble d'utilitaires réalisé par Wiimm. Ils vous permet de manipuler les Images ISO de jeu Wii et les containers WBFS. Les deux utilitaires principaux sont nommés wit (Wiimms ISO Tool) et wwt (Wiimms WBFS Tool, le WBFS manager). Il s'agit de la solution la plus complète à l'heure actuelle en terme de manipulation d'ISO. Tous les formats sont supporté (de fichier comme de format de partition), il est possible de faire des transferts par lot, de réparer des partitions ou des fichiers WBFS, etc, etc...

wit v2.22a r4516 - 2013-06-22

- Command "wit DOLPATCH" accepts now more commands and is able to create new TEXT and DATA sections.
-> Read http://wit.wiimm.de/cmd/wit/dolpatch for details.
- New option: --tt-id=ID: This is a short cut for `--ticket=ID --tmd=ID´. If TICKET and TMD differ, the game will freeze after loading. So it make sense to change only TICKET and TMD IDs together.
- Bug fix, if using "wit COPY --name discname" and the destination is %X or similar: The new discname is now used to create the filename.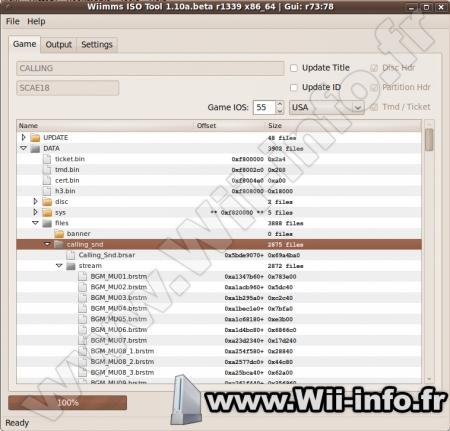 (Image de qtwitgui)

Site officiel : http://wit.wiimm.de/


Site officiel : http://gbatemp.net/t182236-wwt-wit-wiimms-wbfs-iso-tools


Télécharger WIT: Wiimms ISO & WBFS Tools v2.22a r4516
Pages: 1
Messages:
Pages: 1
Ajouter commentaire:
Créez un compte
ou identifiez vous pour poster un commentaire.