Posté par Attila le 29/01/14 à 02:16:54
3070 affichages, 0 commentaire


Wiimms ISO Tools et Wiimms WBFS Tool est un ensemble d'utilitaires réalisé par Wiimm. Ils vous permet de manipuler les Images ISO de jeu Wii et les containers WBFS. Les deux utilitaires principaux sont nommés wit (Wiimms ISO Tool) et wwt (Wiimms WBFS Tool, le WBFS manager). Il s'agit de la solution la plus complète à l'heure actuelle en terme de manipulation d'ISO. Tous les formats sont supporté (de fichier comme de format de partition), il est possible de faire des transferts par lot, de réparer des partitions ou des fichiers WBFS, etc, etc...


wit v2.26a r4863 - 2014-01-22
- Bug fix: Because of a bug after implementing the auto split detection,
reading source images failed, if using stdin for parameters.

- Support for Dolphins file format GCZ (GameCube Zip):
- All commands detect and accept GCZ files as input file.
- Creating of GCZ files is also supported, but EXPERIMENTAL until final
tests have been done.
- New option --gcz force GCZ output.
- Patching of GCZ files is not possible, because the GCZ file structure
doesn't allow modifications (size of compressed data must not change).
- Composing an image to a GCZ file is not possible, because it needs
patching checksums and header after writing the complete image.
The GCZ support is very new, so please use it only with backups of your
images and don't be anger, if it destroy something.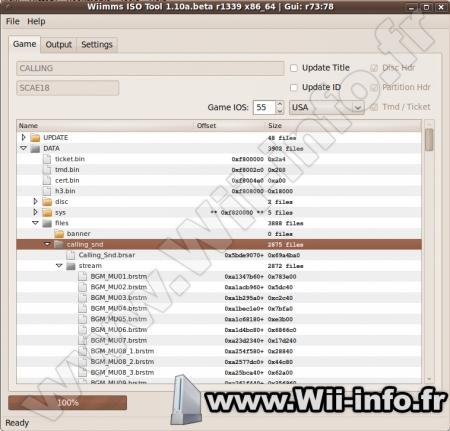 (Image de qtwitgui)

Site officiel : http://wit.wiimm.de/


Site officiel : http://gbatemp.net/t182236-wwt-wit-wiimms-wbfs-iso-tools


Télécharger WIT: Wiimms ISO & WBFS Tools v2.26a 4863
Pages: 1
Messages:
Pages: 1
Ajouter commentaire:
Créez un compte
ou identifiez vous pour poster un commentaire.