Posté par richardjouir le 19/07/14 à 13:32:44
3242 affichages, 0 commentaire


Witgui est un manager de jeux Wii et GameCube pour Mac OS X.
Cette interface est basée sur wit (Wiimms ISO Tool) et wwt (Wiimms WBFS Tool).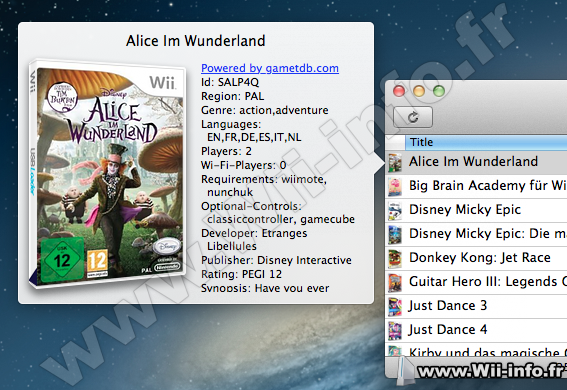 Fonctionnalités :
listing of Wii and GameCube games on your Mac or on an external drive (FAT is natively supported, if you wish NTFS support you may want to install NTFS-3G first) and on WBFS partitions.
converting between .wbfs, .iso, .wdf, .ciso and .wia file formats, adding, removing and extracting games to/from WBFS partitions.

downloading localized cover images from gametdb.com.
parsing localized game details from the gametdb.com database.
searching your games or even the whole offline database.
renaming games with a custom format.
exporting a game list to plain text or html.



Version 2.1.3
NEW FEATURES
The size of the icons in the Icon view can be customized, the dialog for transfers to WBFS partitions can be hidden, /disk can be used instead of /rdisk to access WBFS partitions, flat covers can be used instead of 3D covers (in the Preferences panel).

FIXED BUGS
Games can be dragged from the Icon view to the Finder. Games on WBFS partitions can be correctly verified.

Version2.1.2
FIXED BUGS
Corrected the QuickLook plugin bug that caused some files to get the wrong game cover as a thumbnail (to reset the thumbnail of the files inside the directory "myDirectory", run "rm myDirectory/._*" in a Terminal window). The table columns are sortable again.

Version 2.1.1
BUGS FIXED
Thumbnails are now correctly set by the QuickLook plugin.

Version 2.1
NEW FEATURES
New QuickLook plugin to preview and display thumbnails in the Finder of .wbfs, .wia, .wdf, .ciso and .iso files (the last ones have to be set to be opened with Witgui, otherwise the standard thumbnail/preview will be used). New icon display mode along the already known list mode. Conversion to .wia is now supported. Added option to keep only the DATA and CHANNEL partitions when transferring a game (this can save some space). wit and wwt are searched in the order in the following directories: first in /usr/local/bin, then in the custom path, if any (can be set by selecting "File > Locate wit/wwt" while pressing the OPT/ALT key) and finally in the Application Support folder (where they are downloaded after selecting "File > Download wit/wwt". The "Terminal tricks" for gaining access to WBFS partitions can now automatically be done after downloading wwt. Added menu items to check/repair WBFS partitions and verify games.

FIXED BUGS
WBFS partitions are now correctly detected. Fixed bug that caused unnecessary directories to be created when renaming/converting a game and a game detail contained a "/". Fixed a bug where a conversion's progress bar stopped just before reaching the end.

UPDATES
WBFS partitions can be safely ejected from the File menu.





Site officiel : http://desairem.altervista.org/witgui/wordpress/


Télécharger Witgui 2.1.3