Posté par richardjouir le 28/12/14 à 14:10:02
3094 affichages, 0 commentaire


Wiimms ISO Tools et Wiimms WBFS Tool est un ensemble d'utilitaires réalisé par Wiimm. Ils vous permet de manipuler les Images ISO de jeu Wii et les containers WBFS. Les deux utilitaires principaux sont nommés wit (Wiimms ISO Tool) et wwt (Wiimms WBFS Tool, le WBFS manager). Il s'agit de la solution la plus complète à l'heure actuelle en terme de manipulation d'ISO. Tous les formats sont supporté (de fichier comme de format de partition), il est possible de faire des transferts par lot, de réparer des partitions ou des fichiers WBFS, etc, etc...

wit v2.30a r5771 - 2014-11-15

- Bug fix for GameCube extracts: The alignments in file 'align-files.txt' were too large by a factor of 4.
- WDF version 2 is now the default WDF version. Use --wdf1 to force v1.
- With v2.21a (June 2013) the default output file format was switched from WDF to WBFS. This new default was also used for the SKELETON command.
Now the much more efficient WDFv2 is used as default for skeletons.
- Command SKELETON supports now GameCube images.
- Windows only: Cygwin update to v1.7.32 2014-08-13.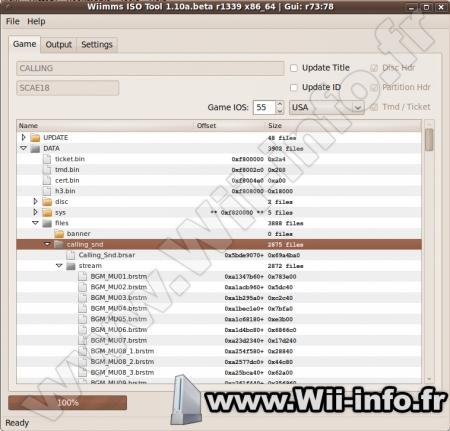 (Image de qtwitgui)

Site officiel : http://wit.wiimm.de/


Site officiel : http://gbatemp.net/t182236-wwt-wit-wiimms-wbfs-iso-tools


Télécharger WIT: Wiimms ISO & WBFS Tools v2.30a r5771
Pages: 1
Messages:
Pages: 1
Ajouter commentaire:
Créez un compte
ou identifiez vous pour poster un commentaire.