| id | Titre | Date | Catégorie | Téléchargements | Vus |
| --- | --- | --- | --- | --- | --- |
| 18 | Glovepie 0.45+patch Wii remote plus: Contrôler le PC avec la Wiimote | 20/08/14 à 23:26:25 | Outils | 2764 | 32004 |
Fichier
: GlovePIE045Free.zip
Taille
: 2.529Mo
Description :
Glovepie
est un programme pour contrôler le pc avec la wiimote.
Vous aurez besoin d'une connexion Bluetooth sur votre PC.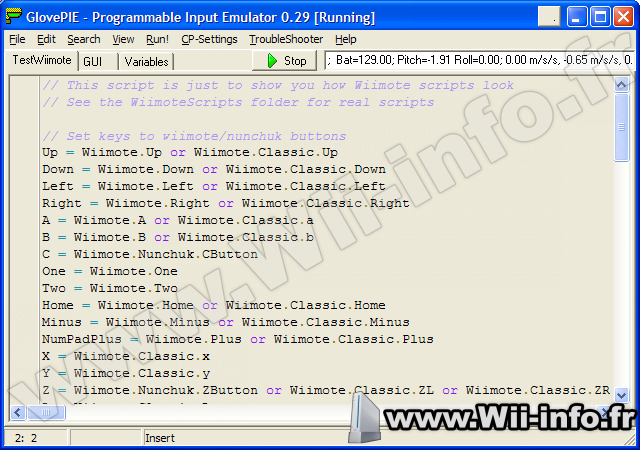 Lisez le tutoriel pour savoir comment utiliser la Wiimote sur un PC avec GLOVEPIE
Version 0.43
* Drum Kits and DJ Hero Turntables should now be detected correctly.
* Wiimotes wait slightly longer when checking which expansion is plugged in
* Nunchuk.Calibrated can now be set to false to recalibrate the Nunchuk joystick.
* "0.1 is not a valid floating point number" bug fixed (only affected Europeans sometimes)
* Variables can now have non-latin names
* Scanner has better unicode support
* Can double click in code completion list to select
* improved code completion detection
* Wild Divine Lightstone bug fixed
* BeginsWith and EndsWith functions no longer case sensitive
* "Any" object axes fixed
* Joystick not working on second run bug fixed
* Extra DualShock3 raw fields for testing
* New menus for new GlovePIE website
* Minimise-to-tray button moved from title/caption bar to menu bar
* Automatically runs as administrator again
* Uses external manifest file
* Maybe visual themes bug is fixed
* Extra mouse detected bug in multiple mouse support fixed
* MouseParty script included (multiple mouse pointers with multiple mice)
* MouseVoiceCommands script included

Version 0.42
* Right click popup menu added to editor
* Switching tabs doesn't deactivate Wiimote and Sixaxis anymore.
* Partial support (untested) for Wild Devine Lightstone (biometric device)
* Support for Neurosky EEG device (untested)
* Wii Motion Plus wrong calibration on second run bug fixed
* Wiimote and Sixaxis show middle 2 lights while calibrating gyros
* Nunchuk.Shake gesture added
* Nunchuk.SwingVertical gesture improved
* Wiimote.Battery now works again
* FakeMouse.DirectInputY is fixed
* FakeMouse and RealMouse now support vectors.
* RealMouse now supports multiple mice individually
* Emotiv.RawGyroTotalX, RawGyroTotalY and RawGyroTotalXY added.
* Lego Indiana Jones scripts included
* Wii Motion Plus mouse control script included

Bug workaround: If GlovePIE won't show the main window when you start it, try right clicking the EXE file, choosing properties, and disabling visual themes.

Version 0.41
Version 0.41 fixes the bug with scripts that use the Emotiv Epoc not compiling. Now you can use a Brain Computer Interface to control games with your thoughts, emotions, and facial expressions. It also automatically runs as administrator on Vista, otherwise it can't inject keystrokes or mouse movements into fullscreen games.

Version 0.40
Version 0.40 adds support for: Wii Motion Plus, Wii DJ Hero Turntable, Wii Guitar Hero World Drum Kits, Wii Guitar Hero World Tour Guitars, Wii Balance Board, Third Party Nunchuks, and Sony Dual Shock 3 Controller (for PlayStation 3). It also adds advanced gesture recognition, and improved input detection in the GUI. And various other bug fixes. Sorry it took so long to release!

Emotiv Epoc support didn't work in this version due to a bug.

Site officiel :
http://glovepie.org/

Télécharger Glovepie 0.45+patch Wii remote plus: Contrôler le PC avec la Wiimote
Les fichiers avec l'extension 7z se décompressent avec winrar ou 7zip.