| id | Titre | Date | Catégorie | Téléchargements | Vus |
| --- | --- | --- | --- | --- | --- |
| 626 | Super Pixel Jumper v1.3 | 22/06/13 à 13:26:15 | Jeux | 65 | 4269 |
Fichier
: SuperPixelJumper_v1.3.7z
Taille
: 1.298Mo
Description :
Périphériques :


ThatOtherPerson
, a qui l'on doit déjà de nombreux jeux tel que
1bit invader
,
Avoidance
ou encore
Maze Generator
, nous présente un portage :
Super Pixel Jumper
.
Le principe du jeu est simple : plus vous évitez les cubes luminescents, plus votre score augmente. Ce portage a été réalisé initialement pour GP2X.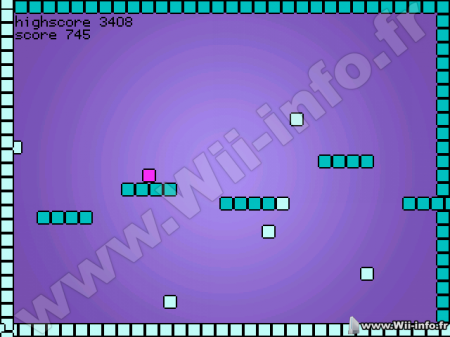 Version 1.3
The music is looping properly again, there have been a lot of behind the scenes changes (mostly as a result of cleanup/rewrites done for the PS3 port), and it has all of the usual updates that have been in my other recent releases (newer home menu and bug fixes).
Version 1.2
An updated version with an online leaderboard.
Version 1.1
- Fixed the problem where you would sometimes explode when sliding underneath a harmful block that shouldn't be close enough to touch you.
- The music no longer plays on a loop (since I have documented this it is officially a feature and not a bug!) but if you want it to continue playing then you can reset it by pressing plus or minus.

Site officiel :
http://thatotherdev.com/category/my-games/super-pixel-jumper/

Télécharger Super Pixel Jumper v1.3
Les fichiers avec l'extension 7z se décompressent avec winrar ou 7zip.