Description :

CorsixTH
par
tueidj
est le portage du jeu
open source éponyme
. C'est une ré-implémentation du jeu
Theme Hospital
, utilisant
Lua
et la
SDL
.
Cet homebrew nécessite les fichiers du jeu original pour fonctionner (vous pouvez utiliser
la version démo
).
Pour installer le jeu, copiez le dossier
CorsixTH
dans le dossier
apps
de la SD/USB. Placez le dossier
HOSP
contenant les fichiers du jeu original ou vous voulez sur la SD/USB. Lorsque vous lancerez l'homebrew pour la première fois, vous pourrez définir l'emplacement de ce dossier à l'aide du navigateur qui apparaitra.
Pour pouvoir avoir le son, il faut utiliser des patchs de compatibilité timidity. Vous pouvez utiliser les patchs proposés par
the Freepats project
. Une fois que vous avez choisit un jeu de patch, copiez le fichier .cfg que vous voulez utiliser dans "/etc/timidity/timidity.cfg" sur votre SD/USB et copiez les fichiers de patch dans "/usr/local/lib/timidity". Si possible, utilisez le patch le plus petit possible, qui utilise des instruments substitués, car il n'y a pas beaucoup de mémoire disponible (par exemple, si vous utilisez le jeu de patch freepats, utilisez le fichier crude.cfg au lieu du fichier freepats.cfg par défaut).
v1.02
- Updates from Corsix-TH SVN.
- Reduce memory usage to avoid out of memory errors, especially when switching language:
- NAND based virtual memory used to hold the current audio library, reduces working set from ~16MB to ~512KB
- LRU cache for sound effects
v1.01
- Many fixes from Corsix-TH SVN. Including (but not limited to) no more stuck patients or handymen, variable speed doctors, doctor promotions, patients sometimes vomit/litter/wet themselves...
- Rewrote the input handling to make proper use of all available SDL joysticks (including gamecube controllers)
- Reworked the video renderer slightly.
- Rewrote the audio renderer to use libaesnd; channels are no longer reversed.
- Newest libogc (no more random crashes when using a real mouse).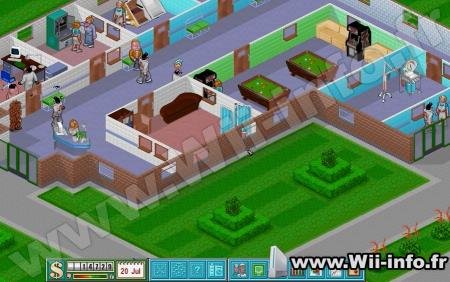 Site officiel :
http://wiibrew.org/wiki/CorsixTH