| id | Titre | Date | Catégorie | Téléchargements | Vus |
| --- | --- | --- | --- | --- | --- |
| 884 | Wii Exhibit v0.4 | 03/11/12 à 13:36:15 | Homebrew | 46 | 6700 |
Fichier
: WiiExhibit_v0.4.7z
Taille
: 0.34Mo
Description :

Wii Exhibit
pas
Thatotherdev
est un éditeur d'image sur wii dans lequel tous les artistes de la wiimote partageront la même toile ce qui vous permettra de voir ce que les autres dessinent, attendez vous donc, à voir des formes familières.
Version 0.4
A new home menu. I rewrote a lot of it and added and changed a lot in the process.

The network browser thing has a built in on screen keyboard (just like the one in Wii Chatter). So now you can use it to post things on people's user pages and in the future you will be able to send private messages and even register an account without needing to actually visit the site.

There is also a little news window next to the main home menu. So you will be able to find out if you are using an outdated version or if something cool has happened without needing to go to the network section of the home menu.

The new sprite sheet / texture it uses is half the size it was previously (which was already smaller than it was not too long ago) so that's good for technical reasons. The buttons and things are designed in a way that allows me to put them closer together and thus fit more on screen. I've even got it setup so I can use different colors of text. I'm not crazy about the way it all actually looks though. I'll probably change the color pallet later and maybe make it customizable.

Version 0.3
I figured out what was wrong with my net code that was keeping it from working with anything other than readable text. So now I can make games that download compressed binary data. Huzzah. The result of this is that now when Wii Exhibit receives the refreshed image from the server it gets it as a nice small PNG file. So it uses less bandwidth and should be noticeably more responsive for anyone with a slow connection.

I've added support for the classic controller. You could always move the cursor with it (using the right analog stick). But now you can change your line type using the directional pad (just like you can with a wiimote) and draw using the A or R button.

I've also updated the home menu slightly. Now you can scroll network pages using a classic controller's left analog stick or directional pad or the analog stick on a nunchuck controller. The networking functionality still isn't really being used for much but I'd like to eventually make it so you can see who is online and have cross homebrew chat and achievements/trophies that other people can see and all the kinds of stuff you get with PSN and Xbox Live.

Version 0.2
In this version you can adjust the thickness of the lines you draw and even their color. Along with white and black you can now draw in red green and blue. The three new colors will appear black to anyone still running version 0.1 of Wii Exhibit.

I've also overhauled the dashboard / home menu. It's mostly behind the scenes stuff and little fixes. The most significant change is the addition of a network page which you can access by pressing the aptly labeled button on the right side of the bottom bar of the home menu. It isn't being used for much right now but I have plans for it and I'll be talking more about it later.

Version 0.1
Press the B button to draw in black or the A button to draw in white. You can draw a straight line by holding down the button and releasing it where you want the line to end. You can refresh the image without drawing on it by pressing the 1 or 2 button.
Online interactions obviously not rated by the ESRB. Don't be too surprised if someone draws a dick or something. It's an inevitability (assuming that people actually use this) and I have zero interest in trying to moderate what people draw.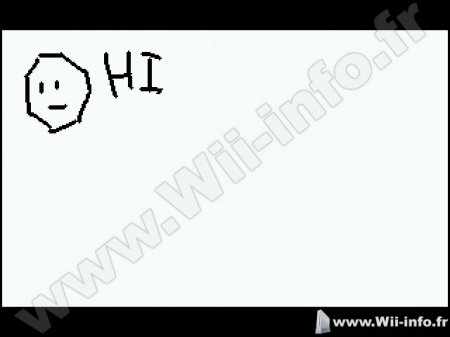 Site officiel :
http://thatotherdev.com/category/my-games/wii-exhibit/

Télécharger Wii Exhibit v0.4
Les fichiers avec l'extension 7z se décompressent avec winrar ou 7zip.