| id | Titre | Date | Catégorie | Téléchargements | Vus |
| --- | --- | --- | --- | --- | --- |
| 904 | Secret Maryo Chronicles v0.2 | 20/11/12 à 20:40:50 | Jeux | 135 | 5606 |
Fichier
: maryo-chronicles-v0.1.zip
Taille
: 42.418Mo
Description :

Wiimpathy
nous propose une mise à jour de
Secret Maryo Chronicles
qui est un jeu de plates-formes ressemblant à l'univers de notre bien aimé Mario. A noter que le portage bénéficie d'un éditeur pour lequel l'ensemble clavier/souris est fortement recommandé.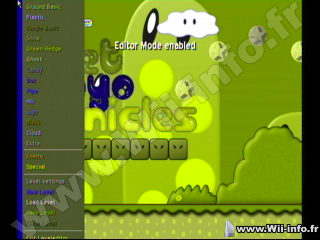 Quote Wiimpathy:
A maryo-like game with an in-game editor. A mouse and a usb keyboard are highly recommended for the editor!
v.02
- Credits and docs are now included.
- SDL logo replaced with HunoPPC's logo.
Nothing's changed in the code at all.

Site officiel :
http://www.secretmaryo.org

Site officiel :
http://gbatemp.net/threads/some-homebrews-biniax-maryo-chronicles-etc.337187/

Télécharger Secret Maryo Chronicles v0.2
Les fichiers avec l'extension 7z se décompressent avec winrar ou 7zip.