Description :
WiiCoverDownloader
par
Actar
est une application
Windows
qui permet de télécharger les covers (jaquettes) de vos jeux
Wii
et
GameCube
il placera ces dernières directement là où il faut pour (dans) votre/vos loader.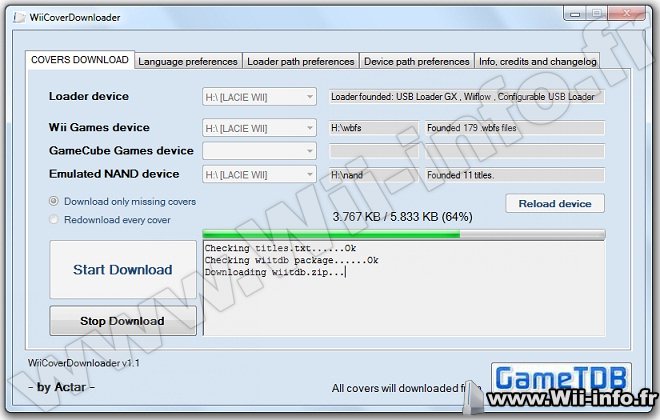 Nécessaire :
PC with .NET 2.0 installed
Your devices with games and loader connected to your PC
Utilisation :
Start the program
Select the device where there are the Loader (are supported USB Loader GX, WiiFlow and Configurable USB Loader).
The application automatically check which Loader are present in the selected device
Now select the device where are stored your games.
Then start the Download and wait. :lol:
The application will download the images and then put in the correct folder for each Loader detected.
Customization
If you want to change the language, go to "Language preferences" and change it.
In case you have already modified/customized paths for covers in Loader settings, change them also in this appilication: "Loader Path Preferences".
You can see the used paths for games (Wii games, Gamecube and Emulated Nand) in the "Device Path Preferences". If necessary change them according to your needs.
v3.7 (28/04/2013)
Simply add a message while application read devices at startup

v3.6 (28/04/2013)
Fixed an issue in case of bad download (wrong MD5) for tools file from code.google

v3.5 (26/04/2013)
Added auto/detect of device at startup
Improved speed for check ID for Wii games
Added another path for Configurable USB loader boot.dol/boot.elf (some user have it on apps\usb-loader)

v3.4 (23/04/2013)
In previous version there was a not correct MD5 check for tools.zip, sorry.

v3.3 (23/04/2013)
Now WIT isn't more used: but now GC covers will be downloaded only if in Dios-Mios format ("device:games\ID\game.iso")
Fixed an issue with minimize button
Fixed an issue when selected an empty WBFS partition
Other little changes

v3.2 (17/04/2013)
Changed function for execute external program

v3.1 (10/04/2013)
Now application will take admin privileges at start-up

v3.0
- tab-stop and tab-index corrected where necessary
- Changed function for check and verify titles (more faster)
- Also titles.txt will downloaded for selected gametdb language
- Code clean and some little fix.
- Now everything should be as I wanted: I hope you like it
- Until no one will report me a problem: NO MORE RELEASE. ;)

v2.3
- wiitdb package will downloaded only for a determinate language, not for all

v2.2
- Now also path for Loader is editable

v2.1
- Removed changelog form application (more space for credits and info)
- Some little graphics change

v2.0
- Removed use of dropbox (now all is hosted in google code page)
- Now application is multi-language

v1.5
- Fixed an issue (reading wbfs partition) in previous release.

v1.4
- Fixed an issue with devices having more than one partition (and one of this with WBFS file system)

v1.3
- Ops : Info, credits and changelog wasn't in read-only mode... fixed.

v1.2
- Graphic adjustement.

v1.1
- Fixed some typo errors.
- Changed check for wiitdb package (now will downloaded only when there is an update on gametdb).

v1.0
- Implemented use of WIT.EXE (thanks to Wiimm) for check gamecube ISO.
- Added some check reading devices.
- Added some info at the end of the report.
Note :
Si vous avez déjà WiiCoverDownloader en version inférieure, il vous suffit de le lancer et la fonction automatique se chargera de le mettre à jour.

Site officiel :
http://code.google.com/p/wii-cover-downloader/