Posté par orwel le 01/04/11 à 08:35:00
4994 affichages, 4 commentaires


Voici un émulateur Mégadrive/Genesis pour Wii par Eke-Eke.
Il supporte les roms sur DVD gravé inséré dans la Wii.
Les roms peuvent être zippées ou au format .smd et au format .bin
Le bios doit être mis dans le dossier /genplus/ de la carte SD sous le nom BIOS.bin

Pour les DVD, mettez les ROMs à la racine.
Pour les cartes SD (formaté en FAT/FAT16), mettez les ROMs dans le dossier /genplus/roms.
Note: si le dossier /genplus n'existe pas, la configuration ne peut pas se sauvegarder.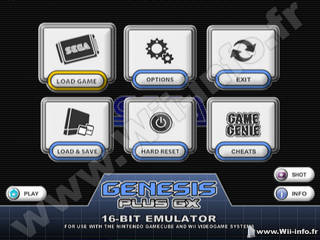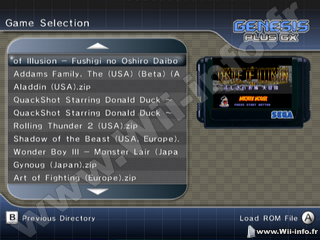 Version 1.5.0
Core/VDP

added support for Master System compatibility mode (Z80 ports access mode), incl. Mode 5 rendering.
added Mode 4 rendering for both Genesis & Master System modes.
added alternate BG planes rendering functions (should be faster on PPC architectures).

Core/IO

added support for Master System compatibility mode (Z80 ports access mode).
added Master System peripherals emulation (Control Pad, Paddle, Sports Pad & Light Phaser).
added XE-1AP (analog controller) emulation.
added Activator emulation.

Core/Extra]

added support for all known Master System cartridge mappers.
added copy-protection hardware emulation for a few MD unlicensed games: fixes 777 Casino (crash when talking to bunny girls).

(NB: most of those unlicensed games seem to have been already patched by ROM dumpers, main purpose is documenting them)

added support for Top Shooter arcade board controller. (A=Shoot, B=Bet, C/RIGHT=Coins, START=Start, hold UP on startup to enter service mode)
improved King of Fighters 98 mapper emulation (registers address decoding is now 100% accurate)
fixed Game Genie when several codes affect same ROM address.
fixed EEPROM types for Brian Lara Cricket & NBA Jam TE (verified on real cartridges)

Core/General

added Master System compatibility mode emulation (automatically enabled when loading ROM file with .sms extension).
improved savestate stability & compatibility (support for old 1.4.x savestates is preserved)
various code cleanup & comments.

Gamecube/Wii

fixed cheat codes handling when several codes affect same ROM address.
improved input controller detection on menu exit.
improved key remapping dialog box to match emulated device
changed Menu key for Gamecube controller to allow MODE button mapping
fixed DVD not being unmounted on swap (memory leak)

Wii only

added USB mouse support for Sega Mouse emulation
compiled with latest libogc: improves USB compatibility & fixes stability issues with Wiimotes.

Source : http://wiibrew.org/wiki/Genesis_Plus


Site officiel : http://code.google.com/p/genplus-gx/


Télécharger Emulateur Megadrive: Genesis plus GX v1.5.0