Posté par abdel69jutsu le 04/09/11 à 01:41:10
2718 affichages, 3 commentaires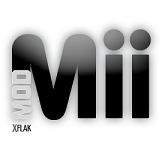 X-Flak nous présente son utilitaire plutôt simple d'utilisation et en mode console.
En effet, il suffit de répondre à des questions simples (en anglais ou en français), comme le firmware que vous voulez installer, il téléchargera automatiquement les fichiers nécessaires et les placera dans un dossier approprié que vous n'aurez plus qu'à copier sur votre carte SD. Ensuite, vous pourrez installer les fichiers grâce à I/S Wad ou encore Pimp My Wii.

Version 4.7.1
- Stopped at converting ModMii.bat into executable;
- this should preventable false-positive virus detections.
- Changed ModMii's folder structure, everything is now organized in a "Support"
folder. Additionally, NAND ModMii builder's now loads wads from "temp \ wad"
instead of "temp \ install2sneek".
- Added an option to build SNEEK SNEEK + DI and SD with access enabled.
- The default setting is disabled.
- ModMii now uses to construct writecdb.exe by scooby74029 cdb.vff when building
NANDs emulated. This reduces the amount of time it takes to boot to emulated
NAND for the first time.
- Added support to save \ load multiple download queues.
- Added support for the DarkWii Blue and Orange themes DarkWii System Menu.
- Updated the "create custom.md5" feature in ModMii's Options page.
- Now all files are checksummed instead of just wad \ dol \ eleven \ app files.
- Custom.md5's are also updated with the current "Drive" setting.
- This is great for advanced users to debug things. For example, DeadlyFoez
can now create a custom.md5 using "Copy_to_SD" as his "drive" setting,
then share it with Violator who has "C" as his "Drive" setting. This will
Violator allow to verify he has the exact same set of files as DeadlyFoez.
- Instead of bundling with Unfreezemii.bat ModMii, users are instructed to type
"Ctrl + C" then "N" then "enter" when they encounter long periods of inactivity.
- Fixed bug where URL forwarders were not using the first four characters of the URL
(Ie. "www.hotmail.com" would load "hotmail.com").
- Fixed bug where menu system not being installed themes were to emulated NAND.
- Fixed bug causing the double-Mii download to fail.
- Code clean-up and other minor changes.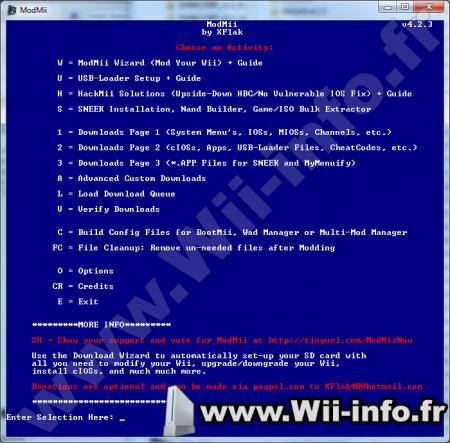 Source : http://www.wii-homebrew.com/wii-homebrew/modmii-v471


Site officiel : http://code.google.com/p/modmii/


Site officiel : http://gbatemp.net/t207126-modmii-for-windows


Télécharger ModMii v4.7.1 (anciennement NUS Auto Downloader)
Pages: 1
Messages:
Pages: 1
Ajouter commentaire:
Créez un compte
ou identifiez vous pour poster un commentaire.