Posté par Attila le 20/09/11 à 17:59:44
2183 affichages, 4 commentaires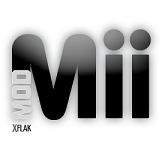 X-Flak nous présente son utilitaire plutôt simple d'utilisation et en mode console.
En effet, il suffit de répondre à des questions simples (en anglais ou en français), comme le firmware que vous voulez installer, il téléchargera automatiquement les fichiers nécessaires et les placera dans un dossier approprié que vous n'aurez plus qu'à copier sur votre carte SD. Ensuite, vous pourrez installer les fichiers grâce à I/S Wad ou encore Pimp My Wii.

Version 4.7.2
Added Command Line Support to ModMii. Now you can send arguments to ModMii via
a cmd window (or batch file) to perform a wide variety of functions.
For information on using ModMii via cmd line, open a command window where ModMii
is saved and type "ModMii Help"; alternatively, you can save that text in a new
text document where ModMii is saved (rename it from .txt to .bat) then run it.
When building an emulated NAND if a file is missing or invalid it will now be
reported on the final summary page.
Entering nothing on the Download Log page no longer sends non-donators
to the credits page again.
Update to ModMii Shortcute-er (by person66) to always run ModMii using cmd.exe
even if a different file association is set.
Fixed bug when extracting the full version of configurable usb-loader where all
the files in the usb-loader folder were not saved to the appropriate subfolders.
Fixed inconsistencies with the recommended cIOS222;
v4 is now recommended on all pages\guides.
Fixed bug where orange themes were not being downloaded.
Fixed bug where ModMii would crash when building s\uneek if the drive setting(s)
contained brackets.
ModMii; now writing it's own jokes.
Other minor changes.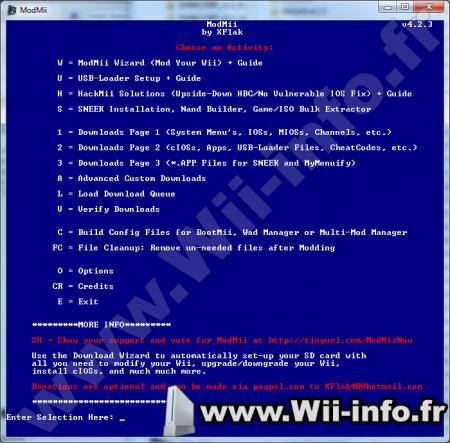 Site officiel : http://code.google.com/p/modmii/


Site officiel : http://gbatemp.net/t207126-modmii-for-windows


Source : http://www.wii-addict.fr/forum/Modmii-v472-t25743.html


Télécharger ModMii v4.7.2 (anciennement NUS Auto Downloader)
Pages: 1
Messages:
Pages: 1
Ajouter commentaire:
Créez un compte
ou identifiez vous pour poster un commentaire.