Posté par abdel69jutsu le 20/11/11 à 14:13:59
2705 affichages, 4 commentaires


postLoader, par stfour, est un utilitaire vous permettant de lancer des homebrews ou des forwarders, en autoboot ou manuellement, directement après le priiloader. Vous pouvez l'installer en autorun après le priilader en utilisant l'option "Load/Install File" de ce dernier.



Version 3.47.0 (r8)
* neek2o: postloader can now install neekbooter in priiloader and configure it for autorun
* corrected game options menu alignment
* changed some menu labels
* removed experimental microsneek feature

> priibooter 1.9
* if postloader isn't found and you are not in neek mode, selection screen is force
* now search also sd:/appps/postloader/boot.dol and usb:/appps/postloader/boot.dol
* wiimote buttons can be press to enter in interactive mode also during device initialization
* wait-time reduced

> neekbooter 1.1
* if something goes wrong, an error message appear.
* corrected crash if postloader isn't found
* added sd:/appps/postloader/boot.dol to search path
* added ISFS/appps/postloader/boot.dol to search path (so we can read postloader from usb, compatible with neek2o and uneek)
note that this make sense only under neek2o as postloader3 is capable to access usb to store data and sd can be removed.
under neek an sd is required for data.

Version 3.46.2
* neek2o: postLoader is now capable to rebuild all wbfs folder/file structure. Still missing fst format
* added progress dialog when rebuilding diconfig.bin
* postloader.dol is now available as apps/postloader/boot.dol
* meta.xml reflect now the real version
* postLoader have it's page in google code

Version 3.45.3
* Added support for usb homebrew access on neek2o (READ NOTES)
* Corrected a crash introduced in 3.44.3 if neek2o nand is in the root
* PARTIAL built in game cache rebuilder (READ NOTES)
* Updated readmii to v1.2

Known issues/todo (in sparse order)

* TODO: Adding patching options to uneek games
* TODO: priibooter gui
* TODO: multy splash screen support
* TODO: patch uid.sys under neek
* TODO: more theme options
* TODO: runtime theme switch
* ISSUE: if a channel png is corrupted, postloader may crash

Version 3.44.3
* Corrected icon layout for homebrews
* Corrected possible crash when drawing themes (for example with dimension theme)
* Corrected some little graphic problems with themes
* n2oswitch now support any priiloader version and change only needed options (autoboot and ReturnTo) leaving all the other option with they original values
* postLoader can now switch to any neek2o nand ([HOME] -> Options... ->Change current neek2o nand")
* postLoader now keep a channels cache file separated for any nand
* added neek2o availability and current nand folder on screen
* appbrowser can now manage up to 256 different homebrews.

Version 3.43.1
- Correction d'un bug causé par un diconfig.bin bizarre
- Correction d'une erreur de typo
- Ajout de n2oswitch.dol dans le dossier ploader. Ce fichier doit être placé dans sd:/ploader/ pour activer la fonction neek2o nand autoswitch.

NOTES:
Supporte automatiquement 4 nands différentes. Ces nands peuvent être sélectionnées pour n'importe quel jeu. Appuyez sur B sur la jaquette du jeu.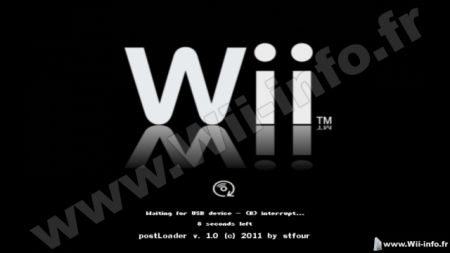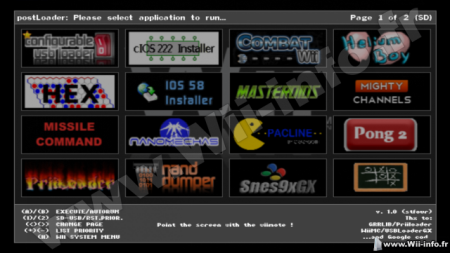 Source : http://gbatemp.net/topic/299384-postloader2/


Site officiel : http://gbatemp.net/t299384-postloader2?&st=0


Télécharger postLoader 3.43.1