Posté par Attila le 07/03/12 à 15:28:53
1873 affichages, 8 commentaires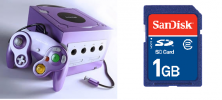 Crediar, auteur de nombreux outils de la scène Wii, publie DML (Dios Mios Lite). DML est un SD loader GameCube, il permet donc de lire les backups de jeux GC sur carte SD.
Celui-ci fonctionne avec ou SANS Sneek.

Crediar est maintenant aidé par d'autres personnes pour l'améliorer.

DisEX est disponible ici.



Révision 51
Updated games that break when using DiscEX -c and games that break due missing
MIOS patches.
Note: Kirby's Air Ride still breaks when using compression of any kind!

Révision 50
Again another donation another feature. Thanks for donating!

-DML now takes a config which is read from memory (0xC0001700) see config.h for
the structure.
The supplied config always overwrites ALL define settings done via global.h
-It is now possible to supply a custom game- and cheatfile path via the config
structure.
-There are three video mode configs:
*DML_AUTO: uses the default DML code to pick the best video mode for the game
*DML_NONE: keeps the current setting
*DML_FORCE: uses the video mode supplied via the config structure
-Fixed the dungeon map freeze for the USA version of Zelda:CE, thanks to
betakoopa for the fix
-NMM activity is no longer flashing the slot led when the define is disabled
-NMM is (silently) disabled if something is inserted in Slot A

Révision 49
-added another PADRead pattern (XG3-USA, ...)
-changed console shutdown code

Révision 48
As requested, console reset/power off via controller added. Thanks for the
donation!

L+Z+Digital-Down+A: power off
L+Z+Digital-Down+B: console reset

This only works on the first controller.

Révision 47
* Small fixes to the .elf loading code(crediar)
* Removed sd logging in the function IRQHandler, might be unstable

Révision 46
- change CheatCode.c to include two versions of the code-handler (default is for
cheat only, use a new define debugger in global.h to change it for debugger
version)

Révision 45
* Changed the debug output to write as much as possible to the log file on sd
card
* Added some debug output when loading .elf files

Révision 44
-changed the __GXSetVAT patch to only patch Zelda:WW and Zelda:CE
This fixes all issues r43 had because of this patch.

This will be my last commit for the time being.





Code source : http://code.google.com/p/dios-mios-lite-source-project/


Télécharger DML (Dios Mios Lite) r50 : SD Loader GameCube