Posté par Itachijiraya le 17/12/12 à 17:05:33
1448 affichages, 0 commentaire


Cubicle Shooter City par Thatotherdev est un portage de sa version sortie sur PS3.
Cet homebrew reprend l'environnement de Hero City et les modèles de personnages de Cubicle Shooter.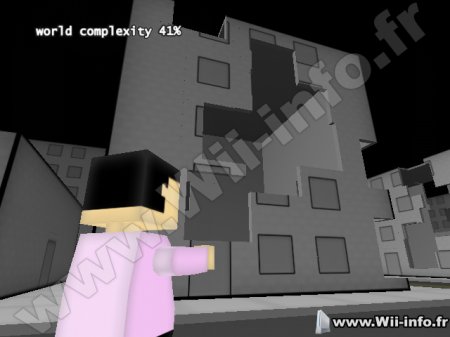 Quote :
This Wii port also features a new destruction mode that brings the camera down behind the player and lets you shoot square shaped holes into the walls of buildings. It's more of a tech demo then a game mode but I'm still very proud of this part. It's all procedural. The city's geometry becomes more complex as you shoot it up and once it reaches a certain point it resets and sends you back to the main menu.

Source : http://www.nintendomax.com/viewtopic.php?p=37803#p37803


Site officiel : http://thatotherdev.com/2012/12/07/cubicleshootercity-v0-1-wii/


Télécharger Cubicle Shooter City v0.1