Posté par richardjouir le 25/01/13 à 15:28:33
2652 affichages, 0 commentaire


RetroArch est un émulateur multi plates formes utilisant la libRetro, et permettant ainsi d'avoir le même code pour les versions Wii, Xbox, pc etc, et la libRetro s'occupe de tout ce qui est spécifique à la plate forme.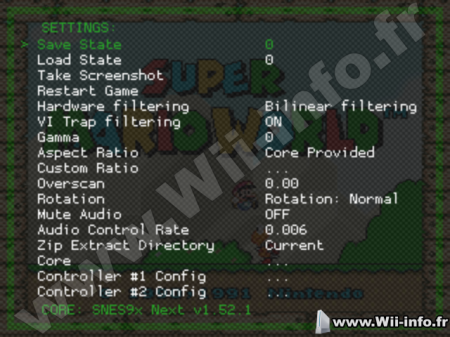 v0.9.8
- [LIBRETRO] Added Mednafen NGP and Mednafen VB.
- [LIBRETRO] Added NEStopia Undead (1.44).
- [LIBRETRO] Updated Mednafen PCE Fast and Mednafen Wonderswan to 0.9.28.
- [LIBRETRO] Added PCSX ReARMed for RetroArch Android.
- [FBA] Updated Final Burn Alpha to 0.9.27.28.
- [Gambatte] Updated Gambatte (now has built-in GBC BIOS color palettes).
- [SNES9x Next] Updated SNES9x Next (fixes numerous bugs).
- [FCEUmm] Updated FCEUmm to latest version.
- [Genesis Plus GX] Updated Genesis Plus GX to latest version.
- (RARCH_CONSOLE) Various stability fixes
- (RARCH_CONSOLE) More sane unzipping mode - will temporarily extract file to HDD and then instantly delete it when it's done with it (ie. when another ROM gets loaded or when RetroArch shuts down)
- (RARCH_CONSOLE) All console ports now use 59.94Hz for synchronization on the RetroArch side instead of 59.92Hz as before. All consoles use 59.94Hz so this agrees better with them.
- (WII) Made a custom wiiuse input driver and built it in. Slimmed down and should give better results. Also rejigged input in general.
- (WII) Added rewind option. NOTE: This feature is CPU intensive - a core might need to at least run at double realtime FPS in order for this option
to be useful.
- (WII) Button combos can now be done ingame. You can do rewinding, fast forwarding, selecting save state slots and 'save state load/save state save' all ingame without first going to the menu. For more information, read the README.txt for the Wii release.

Site officiel : http://www.libretro.org/


Site officiel : http://gbatemp.net/topic/333126-retroarch-a-new-multi-system-emulator/


Télécharger RetroArch 0.9.8 : Emulateur Multi Plates formes