Posté par richardjouir le 02/02/13 à 14:46:37
2652 affichages, 0 commentaire


RetroArch est un émulateur multi plates formes utilisant la libRetro, et permettant ainsi d'avoir le même code pour les versions Wii, Xbox, pc etc, et la libRetro s'occupe de tout ce qui est spécifique à la plate forme.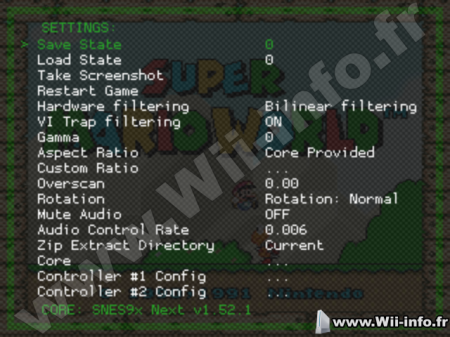 v0.9.8.2
- [Genesis Plus GX] Updated to latest SVN - Lunar: Eternal Blue (MCD, JP) works again
- [Gamecube] Initial release of RetroArch Gamecube.
- [Wii] Fixed serious blitting bug that affected certain PCE games - Dai Makai Mura, R-Type et al should display correctly now

v0.9.8.1
- [FBA] Fixed serious bug that would cause a lot of games to get stuck in service mode or to display graphical corruption (CPS1).
- [NEStopia] Now outputs in mono sound mode.
- [FCEUmm] Uses RGB565 now - should no longer flicker on RMenu.
- [Mednafen PC Engine Fast] Fixed libretro issue where certain games had totally wrong pitch
- [Mednafen Wonderswan] Core fixed, works again.
- [Genesis Plus GX] Set audio samplerate at 48KHz (from 44KHz).
- [Wii] Fixes serious analog stick issues with CC Pro/CC.
- [Wii] Added additional resolutions - 304x224, 576x224, 608x224
- [Wii] More natural way to switch between cores



Site officiel : http://www.libretro.org/


Site officiel : http://gbatemp.net/topic/333126-retroarch-a-new-multi-system-emulator/


Télécharger RetroArch v0.9.8.2 : Emulateur Multi Plates formes
Pages: 1
Messages:
Pages: 1
Ajouter commentaire:
Créez un compte
ou identifiez vous pour poster un commentaire.