Posté par richardjouir le 25/02/13 à 14:07:01
2218 affichages, 0 commentaire
WiiCoverDownloader par Actar est une application Windows qui permet de télécharger les covers (jaquettes) de vos jeux Wii et GameCube il placera ces dernières directement là où il faut pour (dans) votre/vos loader.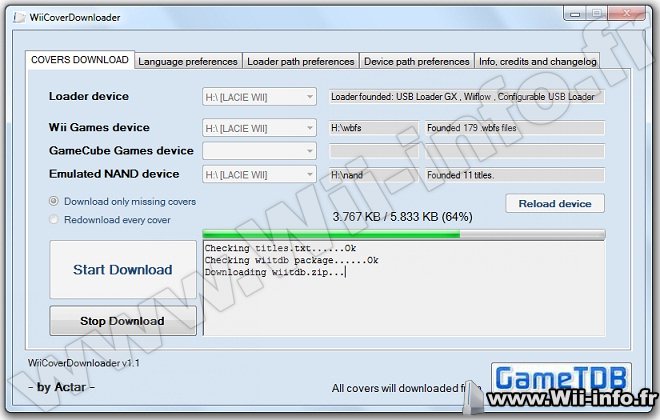 v2.3
- wiitdb package will downloaded only for a determinate language, not for all

v2.2
- Now also path for Loader is editable

v2.1
- Removed changelog form application (more space for credits and info)
- Some little graphics change

v2.0
- Removed use of dropbox (now all is hosted in google code page)
- Now application is multi-language



Note :

Si vous avez déjà WiiCoverDownloader en version inférieure, il vous suffit de le lancer et la fonction automatique se chargera de le mettre à jour.



Site officiel : http://code.google.com/p/wii-cover-downloader/


Télécharger WiiCoverDownloader v2.1
Pages: 1
Messages:
Pages: 1
Ajouter commentaire:
Créez un compte
ou identifiez vous pour poster un commentaire.