Posté par richardjouir le 02/03/13 à 13:50:43
2170 affichages, 0 commentaire
WiiCoverDownloader par Actar est une application Windows qui permet de télécharger les covers (jaquettes) de vos jeux Wii et GameCube il placera ces dernières directement là où il faut pour (dans) votre/vos loader.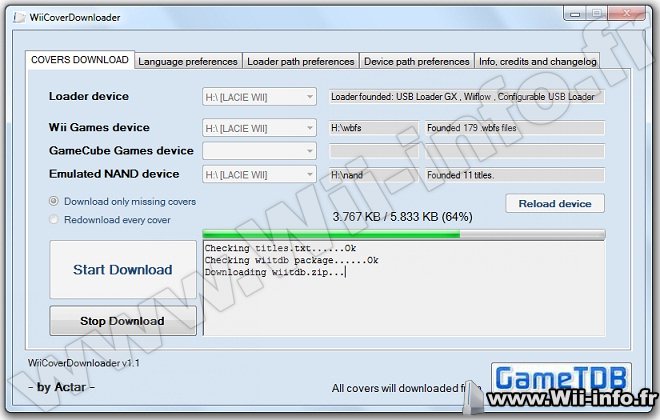 v3.0
- tab-stop and tab-index corrected where necessary
- Changed function for check and verify titles (more faster)
- Also titles.txt will downloaded for selected gametdb language
- Code clean and some little fix.
- Now everything should be as I wanted: I hope you like it
- Until no one will report me a problem: NO MORE RELEASE. ;)



Note :

Si vous avez déjà WiiCoverDownloader en version inférieure, il vous suffit de le lancer et la fonction automatique se chargera de le mettre à jour.



Site officiel : http://code.google.com/p/wii-cover-downloader/


Télécharger WiiCoverDownloader v3.0
Pages: 1
Messages:
Pages: 1
Ajouter commentaire:
Créez un compte
ou identifiez vous pour poster un commentaire.