Posté par Attila le 02/05/13 à 01:10:22
2251 affichages, 0 commentaire
WiiCoverDownloader par Actar est une application Windows qui permet de télécharger les covers (jaquettes) de vos jeux Wii et GameCube il placera ces dernières directement là où il faut pour (dans) votre/vos loader.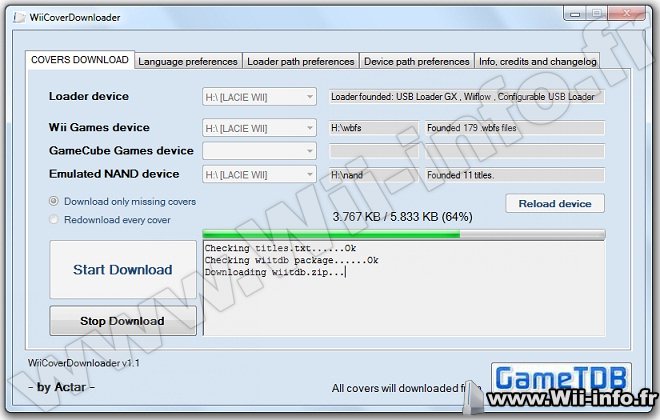 v3.7 (28/04/2013)
Simply add a message while application read devices at startup

v3.6 (28/04/2013)
Fixed an issue in case of bad download (wrong MD5) for tools file from code.google

v3.5 (26/04/2013)
Added auto/detect of device at startup
Improved speed for check ID for Wii games
Added another path for Configurable USB loader boot.dol/boot.elf (some user have it on apps\usb-loader)

v3.4 (23/04/2013)
In previous version there was a not correct MD5 check for tools.zip, sorry.

v3.3 (23/04/2013)
Now WIT isn't more used: but now GC covers will be downloaded only if in Dios-Mios format ("device:games\ID\game.iso")
Fixed an issue with minimize button
Fixed an issue when selected an empty WBFS partition
Other little changes

v3.2 (17/04/2013)
Changed function for execute external program

v3.1 (10/04/2013)
Now application will take admin privileges at start-up





Note :

Si vous avez déjà WiiCoverDownloader en version inférieure, il vous suffit de le lancer et la fonction automatique se chargera de le mettre à jour.



Site officiel : http://code.google.com/p/wii-cover-downloader/


Télécharger WiiCoverDownloader v3.7