Posté par Attila le 18/10/13 à 02:31:31
2644 affichages, 0 commentaire


EasyRPG Player, par Ghabry, est une implémentation open source du moteur RPG Maker 2000/2003.

Utilisation :
Prenez un jeu RPG Maker 2000/2003, et placez le Player (boot.dol) dans le dossier racine de ce jeu (dossier qui doit contenir un fichier RPG_RT.exe).

Cet émulateur ne contient pas de système de recherche de fichier, chaque jeu doit donc avoir son propre boot.dol!



Version 0.1.2
Fixes for the games Yume Nikki (#115) and Ib (#151)
Status scene (#127) (see picture below)
Debug scene (#133) (see picture below)
More move commands implemented (#124)
Problems with picture rotation fixed (#134)
Writing non-ascii characters (basicly all non-English characters like äöü or あえい) to files caused corruption. This broke savegame writing and our tool LCF2XML (#135)
Incorrect charset rendering when charset has non-default size fixed (#137)
Mistakes in the RTP translation table corrected (that one is used to run japanese RPG Maker games with an English RTP and vice versa) (#149)
Add screen effects (Tone/Tint and flash). Tone change was already supported for normal pictures but was very slow, the algorithm was replaced with a faster one. (#118, #153)
Weather rendering was refactored and is faster now, too. (#118, #153) (see performance notes below)

Only for developers:

Build system improvements for Unix based systems (#128, #130, #132, #136 and many others)
OpenDingux Makefile updated (#144)

Performance notes:

Tone change and weather rendering are quite demanding and can cause lag on slow systems. I made some tests to approximate the cpu usage. Results:

Weather increases CPU usage by 25% (1.25 times more)
Tone change by 100% (2 times)
Reducing saturation by 300% (4 times)
Increasing saturation by 400% (5 times)

Calculating the CPU usage for combined effects is left open as an exercise for the reader.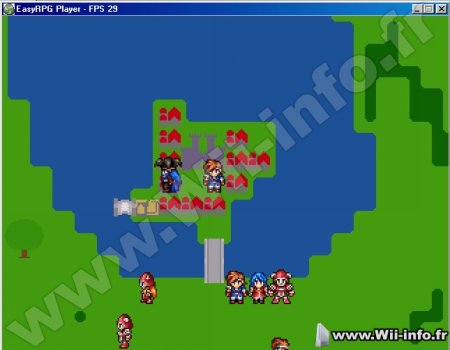 Site officiel : http://wiibrew.org/wiki/EasyRPG_Player


Site officiel : https://easy-rpg.org/


Télécharger EasyRPG Player 0.1.2 : Emulateur RPG Maker 2000/2003