Posté par orwel le 09/02/14 à 13:09:16
3276 affichages, 2 commentaires


Voici un outil made by JoostinOnline et stfour. Settings Editor permet de modifier divers options du système de la console.


Fonctionnalités

Permet de modifier:
- la résolution de l'écran
- l'aspect ratio
- la position de la sensor bar
- le mode sonore
- la vibration de la wiimote
- le mode d'arrêt
- la sensibilité de la wiimote
- le Wii connect 24
- les paramètres d'internet (pour ainsi booter dessus)
Note: Vous ne pourrez pas changer ces paramètres si vous ne les avez pas changés au moins une fois dans les Options Wii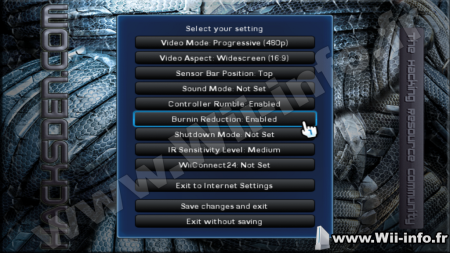 Version 2.0
- You can now define settings in ploader/present.cfg and quick-load them. This is paticularly useful on the Wii U, because it resets some of your settings on boot. You can also set what channel to exit to.
- Updated some of the postLoader code.
- Changed license to GPL v3.0.
- Greatly improved the speed of debug logging.
- Fixed the bug where the wrong resolution was displayed on the Wii U.
- Improved method for detecting the Wii U (thanks crediar).
- Updated libruntimeiospatch.
- Video mode is no longer hidden on the vWii, as it can be used to enable Progressive Scan on Devolution.



Source : http://gbatemp.net/threads/settings-editor-gui-v2-0.361747/


Site officiel : http://www.hacksden.com/showthread.php/3142-Settings-Editor-GUI


Télécharger Settings Editor GUI v2.0
Pages: 1
Messages:
Pages: 1
Ajouter commentaire:
Créez un compte
ou identifiez vous pour poster un commentaire.