Posté par Attila le 07/07/16 à 21:05:07
8410 affichages, 1 commentaire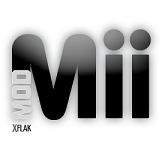 X-Flak nous présente son utilitaire plutôt simple d'utilisation et en mode console.
En effet, il suffit de répondre à des questions simples (en anglais ou en français), comme le firmware que vous voulez installer, il téléchargera automatiquement les fichiers nécessaires et les placera dans un dossier approprié que vous n'aurez plus qu'à copier sur votre carte SD. Ensuite, vous pourrez installer les fichiers grâce à Pimp My Wii.

A noter qu'une interface graphique est désormais disponible, bien qu'elle n'offre pas pour le moment toutes les possibilités de la version classique.



Version 6.3.9
fixing an issue preventing the hackmii installer from downloading

6.3.8 Changelog:
Updated download links for gif's.

6.3.7 Changelog:
Minor fixes to save files to copy_to_usb instead of copy_to_sd where applicable.

6.3.6 Changelog:
Housekeeping to migrate ModMii to sourceforge from googlecode before it shuts down. Multiple updates were required to retain continuous updates of old versions, one to update the existing auto update code on googlecode, and another update from sourceforge.
Changed website from modmii.zzl.org to modmii.comuf.com. Didn't change the name in the website graphic because missing artwork, but mostly just cuz... lazy.
Updated links for various other apps from googlecode to their new homes.
Converted autoupdating download links to static ones for various inactive projects.
CFG USB Loader switched to CFG USB Loader Mod.
Probably some other stuff I can't remember.
Added flux capacitor because this is old as shit!
Check out my new projects! ~xflak40

6.3.1 Changelog:
Updated autoit download link.
Updated md5 of fat32 gui formatter.
Changed auto update code as googlecode will soon cease support for hosting new downloads. I don't expect there to be many updates going forward (if any), but at least the capability is there just in case.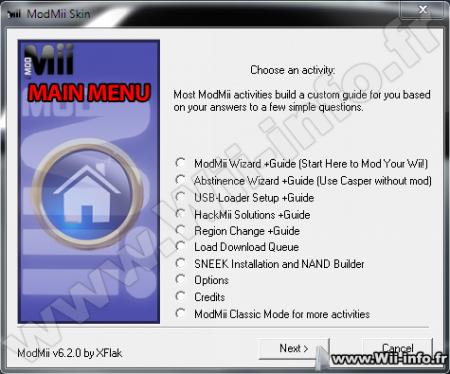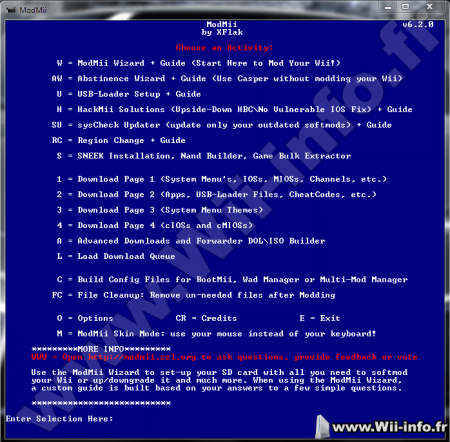 Télécharger ModMii v6.3.9