Posté par Attila le 11/03/17 à 16:14:20
7945 affichages, 0 commentaire


RetroArch est un émulateur multi plates formes utilisant la libRetro, et permettant ainsi d'avoir le même code pour les versions Wii, Xbox, pc etc, et la libRetro s'occupe de tout ce qui est spécifique à la plate forme.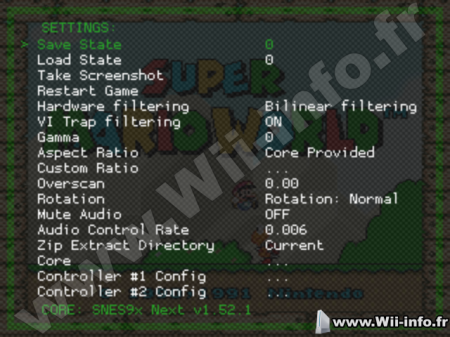 Version 1.5.0

MOBILE: Single-tap for menu entry selection
MOBILE: Long-tap a setting to reset to default
ANDROID: Autoconf fallback
ANDROID: Mouse support / Emulated mouse support
AUTOCONF: Fix partial matches for pad name
CHEEVOS: Fix crashes in the cheevos description menu
CHEEVOS: WIP leaderboards support
COMMON: Threading fixes
COMMON: 9-slice texture drawing support
CORETEXT/APPLE: Ability to load menu display font drivers and loading of custom font.
DOS: Add keyboard driver
DOS: Improve color accuracy and scaling
GUI: Various settings are now only visible when advanced settings is enabled
GUI: Allow changing icon theme on the fly
GUI: Add a symbol page in the OSK (Onscreen Keyboard)
GUI: Better dialogs for XMB
LOCALIZATION: Add/update Korean translation
LOCALIZATION: Rewrite German translation
LOCALIZATION: Update several English sublabels
LOCALIZATION: Update several Japanese labels
NET: Allow manual netplay content loading
NET: Announcing network games to the public lobby is optional now
NET: Bake in miniupnpc
NET: Fix netplay join for contentless cores
NET: LAN games show next to lobbies with (LAN) and connect via the private IP address
NET: Use new lobby system with MITM (Man In The Middle) support
NET: Fix netplay rooms being pushed on the wrong tab
NUKLEAR: Update to current version
SCANNER: Always add 7z & zip to supported extensions
VULKAN: Find supported composite alpha in swapchain
VULKAN: Add snow/bokeh shader pipeline effects – at parity with GL now
WIIU: Keyboard support
WINDOWS: Logging to file no longer spawns an empty window
WINDOWS: Fix loading of core/content via file menu




Télécharger RetroArch v1.5.0 : Emulateur Multi Plates formes
Pages: 1
Messages:
Pages: 1
Ajouter commentaire:
Créez un compte
ou identifiez vous pour poster un commentaire.