Posté par Attila le 17/08/17 à 16:51:37
3866 affichages, 2 commentaires


Wiimms ISO Tools et Wiimms WBFS Tool est un ensemble d'utilitaires réalisé par Wiimm. Ils vous permet de manipuler les Images ISO de jeu Wii et les containers WBFS. Les deux utilitaires principaux sont nommés wit (Wiimms ISO Tool) et wwt (Wiimms WBFS Tool, le WBFS manager). Il s'agit de la solution la plus complète à l'heure actuelle en terme de manipulation d'ISO. Tous les formats sont supporté (de fichier comme de format de partition), il est possible de faire des transferts par lot, de réparer des partitions ou des fichiers WBFS, etc, etc...

wit v3.00a r7387 - 2017-08-13
- At the beginning of Wiimms-SZS-Tools I extraced the universal usable source
code from Wiimms-ISO-Tools and created an independent C source code library
called »dcLib«. I use this dcLib also for some other projects like mkw-ana,
Wiimmfi, XDump and some more private projects. Now I inserted the expanded
and more functional dcLib back into Wiimms-ISO-Tools and removed old WIT
specific functions and members with same name or functionality. The great
advantage is the easier management of the shared sources. The adapted code
works fine with at least one issue: The error codes (numbers, not names)
changed. If you used »wit error« to translate numbers to messages, you'll
not have any problems.
- New options: --color[=mode], --256-colors, --no-colors: Define the color
mode of the tools. If a command is prefixed by 'C-', then --color=ON is
used implicitly as default. By default, the color support is only enabled
for terminals. However, commands have to be recoded to support colors.
- List of commands with color support:
- HELP (complete help system)
- wit ID6 + ID8 (highlight unusal IDs)
- wwt SPACE
- Bug fix: When extracting GameCube images, »fst.bin« was 4 times too large.
- Some minor fixes.
- Windows only: Cygwin update to v2.8.1, 2017-07-03.
- Apple Mac is no longer supported because I no longer have access to a Mac.

wit v2.40a r7331 - 2017-01-05
- This will be the last release of v2.* series. I plan to reorganize the code
and to use my own C source library and to integrate Wii U support.
- New command: wit ID8: Print ID6 + 2 next bytes as disc and version number.
- Title database: Definitions without titles (e.g. "RMCP =") will remove the
related title from the internal title database. If a ID is followed by a
star (e.g. "RMC* ="), then all titles beginning with the ID are removed.
- Title database updated.
- Some minor text edits.
- Windows only: Cygwin update to v2.6.1 2016-12-16.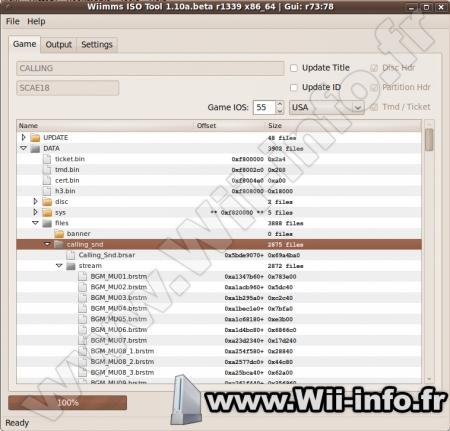 (Image de qtwitgui)

Télécharger WIT: Wiimms ISO & WBFS Tools v3.00a r7387
Pages: 1
Messages:
Pages: 1
Ajouter commentaire:
Créez un compte
ou identifiez vous pour poster un commentaire.