Posté par Attila le 18/08/17 à 14:53:51
6091 affichages, 2 commentaires


Witgui est un manager de jeux Wii et GameCube pour Mac OS X.
Cette interface est basée sur wit (Wiimms ISO Tool) et wwt (Wiimms WBFS Tool).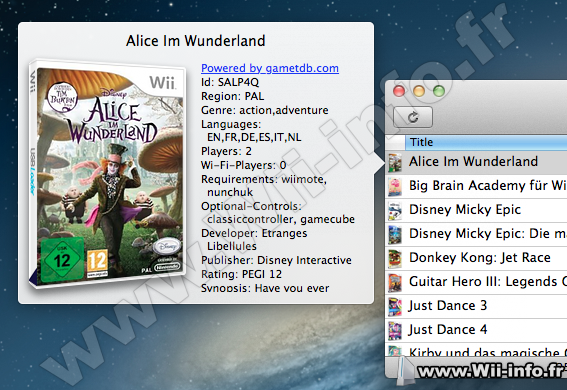 Fonctionnalités :
listing of Wii and GameCube games on your Mac or on an external drive (FAT is natively supported, if you wish NTFS support you may want to install NTFS-3G first) and on WBFS partitions.
converting between .wbfs, .iso, .wdf, .ciso and .wia file formats, adding, removing and extracting games to/from WBFS partitions.

downloading localized cover images from gametdb.com.
parsing localized game details from the gametdb.com database.
searching your games or even the whole offline database.
renaming games with a custom format.
exporting a game list to plain text or html.

Version 2.2.7
Fixed a bug where database titles would not be localized and some covers not downloaded on macOS Sierra. The batch renaming dialog works again.

Version 2.2.6
Updates

The Quick Start window accepts drags from the Finder to open new windows. The View menu has been deleted, the columns of the table view can now be managed from the context menu of the table view header, as does the Finder. Games can now be dragged to the trash.
Fixed bugs

Conversions run again on older systems.

Version 2.2.5
Updates

Updated for macOS Sierra.

Version 2.2.4
New features

Games can be transferred directly between WBFS partitions.
Fixed bugs

An alert is now displayed when dragging a game from the Finder to a WBFS partition and wit is not installed. Fixed a bug where WBFS partitions would sometimes not be detected.



Télécharger Witgui 2.2.7
Pages: 1
Messages:
Pages: 1
Ajouter commentaire:
Créez un compte
ou identifiez vous pour poster un commentaire.