Posté par richardjouir le 12/02/13 à 14:10:11
2037 affichages, 1 commentaire


RetroArch est un émulateur multi plates formes utilisant la libRetro, et permettant ainsi d'avoir le même code pour les versions Wii, Xbox, pc etc, et la libRetro s'occupe de tout ce qui est spécifique à la plate forme.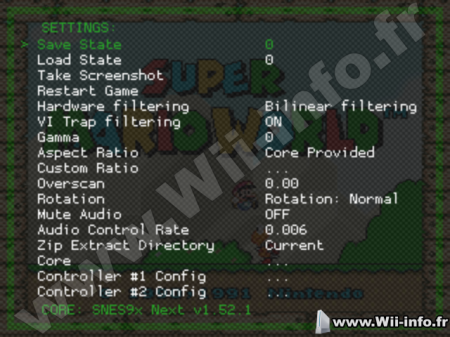 v0.9.8.3
* [FBA core] Various changes/fixes
- Hook up Armed Police Batrider controls
- Afterburner - make fire buttons work
- Hook up Bad Dudes controls
- Hook up Cyberbots controls
- Hook up 1942 controls
- Add missing Chase HQ controls
- Add missing WWF Wrestlefest controls
- EEPROM save should now work (tested with EEPROM-based system such as Capcom CPS2)
- Samples are now looked for - should be in 'samples' subdirectory
- Hiscore files should now be read from/written to.
* [SNES9x Next] Added big speed hack for Star Fox 1 - makes it fast enough for it to run at fullspeed on the Wii.
* [Genesis Plus GX] Set...



Site officiel : http://www.libretro.org/


Site officiel : http://gbatemp.net/topic/333126-retroarch-a-new-multi-system-emulator/


Télécharger RetroArch v0.9.8.3 : Emulateur Multi Plates formes
Pages: 1
Messages:
Pages: 1
Ajouter commentaire:
Créez un compte
ou identifiez vous pour poster un commentaire.