Posté par Attila le 19/07/15 à 19:49:27
13347 affichages, 1 commentaire


RetroArch est un émulateur multi plates formes utilisant la libRetro, et permettant ainsi d'avoir le même code pour les versions Wii, Xbox, pc etc, et la libRetro s'occupe de tout ce qui est spécifique à la plate forme.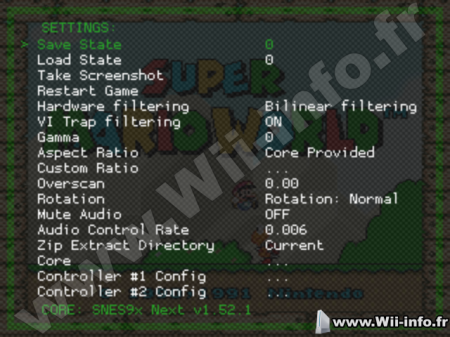 Version 1.2.2
There were some problems with the last release. FBA CPS1 was missing and FBA CPS2 was not working. Both are rectified now and included again.
– (Wii) Fix FBA CPS1/CPS2 cores.

(plein d'autres changements pour les versions précédentes)


Emulateurs/Jeux supportés

- Final Burn Alpha Cores (CPS1 - CPS2 - NeoGeo) [version 0.2.97.26] (**)
- FCEUmm (Nintendo Entertainment System) [recent SVN version]
- Gambatte (Game Boy | Super Game Boy | Game Boy Color) [version 0.5.0 WIP]
- Genesis Plus GX (Sega SG-1000 | Master System | Game Gear | Genesis/Mega Drive | Sega CD) [version 1.7.0]
- SNES9x Next (Super Nintendo/Super Famicom)
- VBA Next (Game Boy Advance) (*)
- Prboom (for playing Doom 1/Doom 2/Ultimate Doom/Final Doom)
- Mednafen PCE Fast (PC Engine/PC Engine CD/Turbografx 16)
- Mednafen Wonderswan (WonderSwan/WonderSwan Color/WonderSwan Crystal)

Lisez la doc pour plus de documentation.



Site officiel : http://www.libretro.com/


Télécharger RetroArch v1.2.2 : Emulateur Multi Plates formes
Pages: 1
Messages:
Pages: 1
Ajouter commentaire:
Créez un compte
ou identifiez vous pour poster un commentaire.