Posté par Attila le 17/11/17 à 17:56:31
4943 affichages, 1 commentaire
Whitehole v.1.0.1 par Mega-Mario et SunakazeKun est un éditeur de niveau compatible avec Super Mario Galaxy 1 et 2 !!

Vous aurez besoin de Java JRE7 pour que cette application fonctionne.
Whitehole est compatible Windows et Linux.
Normalement il fonctionne aussi sous OSX mais n'est et ne sera pas suivi (pas par l'auteur en tout cas).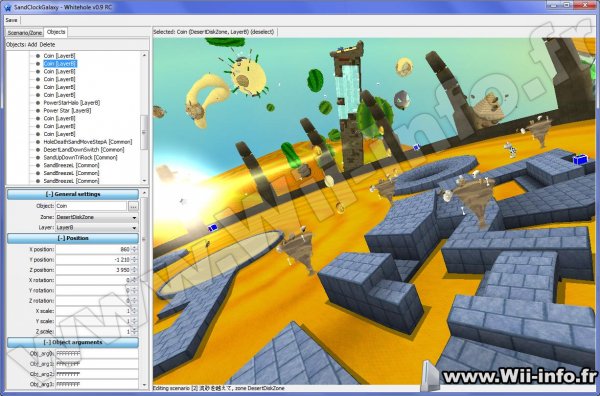 Version 1.4.3
Added: Full support for paths and path points!
Added: Multi-renderer, which replaces the old Double and Triple renderers
Added: New object rendering (coins, black holes, ...)
Added: Gravity rendering
Added: Obj_arg descriptions are displayed to show more information about the current object
Added: Improved property field names
Added: Randomized path colors which replace the previous ones
Added: ShapeModelNo editing and rendering has been completely reworked and it doesn't crash the program anymore.
Fixed: Area rendering for SMG1 has been specified
Fixed: Wrap and filter modes for BMD and BTI renderers weren't properly configured
Fixed: Position, rotation and scale copying doesn't work
Fixed: Editing cutscenes freezes the program when saved
Fixed: Crash if a non-existing model file can't be loaded
Misc.: A lot of cleanup, although there's still a lot of shitty code...



Télécharger Whitehole v1.4.3: Editeur de niveaux mario galaxy
Pages: 1
Messages:
Pages: 1
Ajouter commentaire:
Créez un compte
ou identifiez vous pour poster un commentaire.